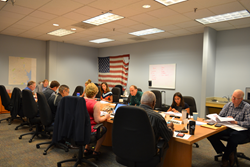 Our mission is to help veterans fast track their careers to success.
Sugar Land, TX (PRWEB) June 21, 2017
CDR Assessment Group, Inc. completed the first Veterans Career Coaches' Certification Workshop as part of the "Vets Coaching Vets" initiative at the Combined Arms Center in Houston. CDR and Lone Star Veterans Association (LSVA) teamed to offer this session. Five veteran support groups had members attend this two-day workshop including: LSVA, Impact A Hero, VEL Institute, NextOp Veterans, and Academy Leadership.
Kevin Doffing, Executive Director of LSVA commented, "This was a great workshop experience. Wow! Everyone was blown away and really excited. I can't thank you enough for your time and devotion to improving the lives of our members in the LSVA community. I hope you know that it has had an impact already."
CDR's President and architect of "Vets Coaching Vets," Nancy Parsons explains, "Our mission is to help veterans quickly move onto career and educational tracks that are best matched to their own inherent capabilities and needs. Another benefit is that the veterans who are becoming certified coaches are enhancing their own entrepreneurial skill sets and menu of services."
According to Parsons, "Many of the current career transition programs for veterans lack a scientifically validated assessment instrument that covers the breath and scope of the CDR Character, Risks for Derailment, and Drivers and Rewards tools used in this initiative. CDR Assessments dig deeper to reveal true talent and intrinsic motivators to an unmatched level."
Jay Shaw a Veteran workshop participant from Impact a Hero said, "This has been an amazing experience. It has my wheels turning on how I can help Veterans... I have used some assessments but this one goes much deeper and is so nuanced that I think it is going to be very helpful."
"What has been most illuminating to me over the past two years since launching 'Vets Coaching Vets' in Houston," said Parsons, "is that the veteran CDR Character profiles we are seeing are far and away better, in terms of employment suitability for key jobs, than the typical slate of candidate profiles we see applying to our client companies. So, we need to get the word out to hiring companies."
Since launching "Vets Coaching Vets" in 2016, CDR has donated the assessments, orientation sessions, coaches' certification workshop, materials, marketing and administrative services to this project. CDR's network of certified executive coaches from across the nation have volunteered to provide 4 hours of coaching time per veteran for more than 40 Veterans in the Houston area. LSVA has provided a hub for the Vets Coaching Vets initiative, along with communications, marketing, web support, and training facilities.
We are seeking other companies and organizations to join us to help underwrite or contribute services to this valuable effort. For more information, contact Christine Klatt at cklatt@cdrassessmentgroup.com or call 918-600-5728.
_________________
Founded in 1998, CDR Assessment Group, Inc. provides unmatched assessments and leadership and talent development services for global clients. CDR is a nationally certified women-owned business (WBENC, WBEA).
Houston-based, Lone Star Veterans Association is the largest post-9/11 veteran membership group in the state of Texas.
For more information Veterans should contact: communications(at)lonestarveterans.org
For inquires about CDR's tools and services, contact: cdrinfo(at)cdrassessmentgroup.com or call 918-600-5728.