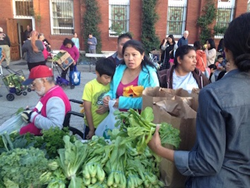 "...a shining example of a community organization taking a treasured local landmark and reinventing it as a vital space that... brings people together in an uplifting manner." - County Supervisor Hilda L. Solis
Los Angeles, CA (PRWEB) June 14, 2017
The County awarded the PUP with grant money for the Vida Sana a health and wellness program which provides free cooking classes, art projects, social service workshops and farmers market for the neighborhood. After a morning visit to the PUP County Supervisor Hilda L. Solis shared, "I was so honored to visit the Pico Union Project and see their work in action. This is a shining example of a community organization taking a treasured local landmark and reinventing it as a vital space that channels the uniquely diverse, artistic, and spiritual nature of Los Angeles to bring people together in an uplifting manner."
The PUP was also awarded a grant from the Jewish Federation to pilot Art & Soul, a creative arts workshops for teens to explore identity, culture and diversity in Los Angeles as well as starter grant from the Pico Union Neighborhood Council and Big Sunday to support a Keep it Green, Keep it Clean neighborhood program.
On the national front the Pico Union Project received recognition from the Slingshot Guide, an annual compilation of innovative Jewish organizations. "Their wonderfully innovative approach blends unique physical space, with worship and the arts in a way that also engages the diversity of the community they are in." commented Stefanie Rhodes, executive director of Slingshot. "It is clear the Pico-Union project is at the forefront of innovation in LA."
Finally, the Pico Union Project was selected to be a participant in Upstart Accelerator, a program which over the coming three years will provide tools, networking and financial resources to grow the PUP.
Reacting to the exciting announcements, Craig Taubman, founder of the Pico Union Project said, "The PUP is project. In order for projects to 'project' forward they need partners on the other side to scoop up the idea and run. It's nice to be recognized, good to be rewarded and powerful to see others join and support our mission to love our neighbors as we wish to be loved."
For more information, photos, video or to schedule an interview please email info(at)picounionproject.org or call 818-760-1077
ABOUT PICO UNION PROJECT Housed in the oldest synagogue building in Los Angeles, The Pico Union Project is a multi-faith cultural arts center dedicated to the Jewish principle to "love your neighbor as yourself." We honor this teaching by bringing diverse cultures together through song, story, art, food, prayer and community service. http://www.picounionproject.org