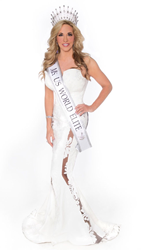 I was beyond ecstatic to win the Ms. US World Elite title, especially in the presence of so many phenomenal women. With this victory, I want to continue to empower and inspire women of all ages
Washington (PRWEB) June 15, 2017
Carla Gonzalez, from Oklahoma, was crowned Ms. US World Elite 2017 at this year's Ms. US World Pageant held at the Everett Performing Arts Center in Washington on May 28. Gonzalez, a known veteran in the world of pageantry, proudly represented Oklahoma at the national level in the Ms. US World Pageant.
The Ms. US World Pageant is open to women 26 years of age and older, having a category for women age 40 and up. The women can be single, divorced, married, widowed with or without children. Many women from diverse backgrounds came from across the United States and competed in four areas of competition: Evening Gown-30 points, Interview-30 points, Fitness Wear-20 Points and Finalist On-Stage Question-10 points. Tedi Haid, Ms. Alabama, was first runner-up.
"I was beyond ecstatic to win the Ms. US World Elite title, especially in the presence of so many phenomenal women. With this victory, I want to continue to empower and inspire women of all ages. I want to let them know that if they believe, they can achieve and accomplish anything they set their minds to, and that age should never be a deterrent when following your dreams. Anything is possible," Gonzalez said.
Gonzalez wore a custom gown by Michael Costello, a fashion designer and former contestant on "Project Runway." Her gown was detailed with lace, trimmed with white sequins and flowed as she graced the stage during evening gown competition.
Gonzalez remains busy and hard at work to bring awareness and support her platform, Domestic & Teen Dating Violence prevention, Anti-Bullying, and Empowerment of Women, while also supporting several other causes that are very important to her. Gonzalez has a Bachelor and Master's degrees in Clinical Social Work, and a minor in Psychology, from the University of Oklahoma and continues to make positive achievements in her life. She has received many certifications and has been recognized for her dedication to many social causes. Gonzalez is a Certified Anger Management Specialist, Certified Domestic Violence Specialist, Grief Recovery Specialist, and is currently working on an accreditation in Suicide Prevention.
She is a member and actively supports the National Network to End Domestic Violence, United Nations Association of the USA, International Bullying Prevention Association, National Association of Social Workers, Prevent Child Abuse America, Make A Wish Foundation, Susan G Komen, American Heart Association, American Association of Suicidology, Academy on Violence & Abuse, American Cancer Society, Human Trafficking Task force, Oklahoma Women's Coalition and the International Women's Leadership Association (IWLA).
One of Gonzalez' most distinguishing awards came from President Barack Obama in recognition and appreciation of her commitment to strengthening the U.S. through her volunteer service. Gonzalez was honored to receive an International Peace Award at the annual International Peace Gala event held in Los Angeles this past October. She was also awarded the Individual Anti-Bullying award by the National School Safety Advocacy Council and the Power of One award by the Oklahoma Coalition Against Domestic Violence & Sexual Assault. Gonzalez was excited to have also been named Top Female Executive in 2016 by IWLA.
Last month, Gonzalez attended the American Heart Association "Go Red for Women" event. She recently traveled to Las Vegas to do a stunning photoshoot for L'Vegue Magazine's upcoming publication, modeling designs by fashion designer, David Tupaz. She graced the red carpet at the 3rd Annual Hollywood Beauty Awards, and is thrilled to have been appointed to their HBA Board. She also recently attended the National Bullying conference which was held in Orlando, Florida.
For more information about Carla Gonzalez, visit her website at http://www.CarlaDGonzalez.com, on social media; Instagram at Carlag0321, Twitter at @CarlaGonzalezOK, and her Facebook Fan Page at @CarlagonazlezMsUSWorldElite2017 or visit http://www.msworldpageant.org.
For Media Inquiries, Interviews or Speaking Engagements, please contact YM & Associates PR | Marketing | Branding at YMoralesY(at)YM-PR(dot)com or call 949-244-9769.
Yvette Morales
YM & Associates
PR | Marketing | Branding
California | New York
949.244.9769
YMoralesY(at)YM-PR(dot)com
@YMTheBevHillsPR
http://www.YM-PR.com