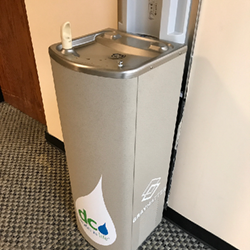 "This project redefines public water consumption, putting people and clean water first."Jim Gillespie, GrayMatter CEO
(PRWEB) June 19, 2017
GrayMatter and DC Water have created a drinking fountain that monitors water quality and flow in real time – giving users more confidence in the water they are drinking and saving money spent on maintenance and testing. The groundbreaking co-innovation project addresses lead levels -- one of the most pressing issues in water.
"This project redefines public water consumption, putting people and clean water first."
Jim Gillespie, GrayMatter CEO
"DC Water is committed to providing safe and affordable drinking water to our customers.  We initiated this project to help develop a drinking water fountain that can deliver real-time information about water quality for our customers, with special emphasis on lead, and for a fountain that can be used initially in schools, hospitals, day-cares and other similar institutions."
George Hawkins, DC Water CEO and General Manager
The new tech-fountains have sensors that use real-time data and analytics to monitor both water quality and flow levels, sending that information to the cloud and back, alerting when water quality measurements begin to deteriorate. Alerts are sent by text or email to a water manager. The flow and water quality sensors give a more accurate indication when the lead filter should be changed compared to traditional filters that use flow only (such as refrigerator filters). A "change filter" message alerts maintenance, so they no longer have to guess or estimate when the lead filters should be changed. The fountain is also programmed to shut off at set water quality and/or flow levels until corrections are made. These maintenance alerts extend the life of the fountains, resulting in lower costs.
GrayMatter's VP of Water debuted a prototype of the fountain at AWWA-ACE 2017, showcasing the technology advancement to water industry leaders.
"We're leveraging ioT (Internet of Things) technology to provide an unprecedented, near real-time view into water quality."
Alan Hinchman, GrayMatter VP Water
GrayMatter and DC Water's fountain co-innovation project is just the beginning of many ways private sector innovation and independent operations are joining forces to make water operations more efficient, at a lower cost.
The fountains are set to be used in public places this fall, including schools.
GrayMatter is a technology and consulting company headquartered in Pittsburgh, committed to transforming operations and empowering people in critical infrastructure environments.
The District of Columbia Water and Sewer Authority (DC Water), is an industry leading multi-jurisdictional regional utility that provides drinking water and wastewater collection and treatment for millions of visitors, residents and employees in the District of Columbia, and also collects and treats wastewater for a population of 1.6 million in Montgomery and Prince George's counties in Maryland and Fairfax and Loudoun counties in Virginia.