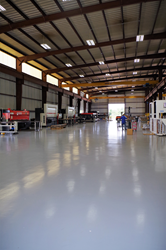 CAPS campus is a manufacturing powerhouse, totaling 300,000 sq.ft. of endless possibilities
Houston, Texas (PRWEB) June 20, 2017
Custom Air Products & Services, Inc., one of the largest custom HVAC manufacturers in North America with over 40 years of experience specializing in the design, construction, installation, modification, and servicing of industrial, commercial and offshore HVAC equipment, continues to expand in the heart and heat of Texas. Bursting with innovative products, CAPS has expanded it campus footprint another 50,000 sq.ft. With over 15 sprawling acres of developed manufacturing facilities, CAPS campus is a manufacturing powerhouse, totaling 300,000 sq.ft. of endless possibilities.
"This significantly increased footprint, expands our campus to provide new research and development that will ultimately help our customers, in any industry and located anywhere reach their own business goals," said Taylor Norris, CAPS Chief Executive Officer. "Our expanding campus reflects the Best of CAPS commitment to our customers while keeping the CAPS culture centered on future products."
The new building adjoins the already existing CAPS campus and provides an integral piece of the CAPS cohesive environment combining manufacturing departments such as project management, electrical, testing, and parts to provide efficiencies throughout the manufacturing processes. The campus includes training and conference facilities for continued education for its employees as well as classroom and hands-on training for customer employees as well.
"Today CAPS provides products and services to more than 52 countries," noted CAPS Manufacturing General Manager Ken Villarrubia, "With a borderless mentality and an expansion to our manufacturing footprint our growth is limitless."
On any given day at CAPS, customers and potential customers can be found onsite engaging in activities from factory allocated testing, to on-site training, to informational tours. The CAPS manufacturing processes are truly a must see and tours and visits are encouraged.
"If you believe our products or services might be of benefit to your organization," explained Norris, "then we really look forward to hearing from you and planning your next visit. Seeing is definitely believing here at CAPS."
About Custom Air Products & Services
Custom Air Products & Services, Inc. is a full-service HVAC company that specializes in the design, construction, installation, modification, and servicing of industrial and commercial HVAC equipment. CAPS employees are committed to providing exceptional custom design and quality workmanship at competitive prices.
Custom Air Products & Services currently occupies six (6) modern facilities, totaling 300,000 square feet in size. These buildings include manufacturing, fabrication and modifications, paint booths, a parts warehouse, engineering offices and a training facility. CAPS services are provided to customers throughout the United States and abroad with manufactured equipment operating on six (6) continents and in (52) countries.