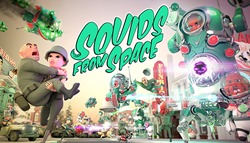 "Working direct with gamers on Squids from Space really helps drive decision making for features and future content."
Seattle, WA (PRWEB) June 16, 2017
Today, Fun Bits announced that its latest title in development, SQUIDS FROM SPACE, an irreverent 1950s-styled PvP action-battle game, is now available to Play via Steam Early Access.
Playing as a Human military soldier, players can team-up and face-off against agro squishy creatures to save civilians and capture the elusive "Squid Brain," in an intergalactic battle royale. The Humans can upgrade their physical firepower by recycling metal, saving people and unlocking crates of new offensive guns, fabulous flamethrowers, artillery, grenades and life-saving medi-gel. Humans must work together to protect Earth, before the next wave of Squids start snatching their people up.
Playing as a Squid, gamers control human-grabbing cephalopods that have descended upon Earth in glassy "squid bowls" that can hop-n-plop into various alien machinery. The Squids are on a mission to quickly gather as much metal and meat as possible, in order to upgrade weaponry and multiply. Squids beam onto the battlefield with resource-grabbing harvesters, nimble bipedal power-suits, and laser-blasting crawler tanks. Whenever their ride is destroyed, Squids can roll-out and jump upon the head of an unsuspecting human, to take-over their body and continue the fight. As the Squids and Humans engage in all-out-war, the ultimate battle will be won by the team who captures the enemy's leader the fastest.
"Squids from Space is a revolutionary shift for our studio, in that we are in active development while gamers and streamers are already playing and giving us direct feedback before launch" Says Chris Millar, CEO and Director of Fun Bits. "Coming from developing Fat Princess, which was a chaotic PvP game that became one of the fastest-selling PSN chart-toppers, it's brilliant to be back once again, focused upon this style of PvP game with a community that has hungered for this kind of accessible, yet strategic, multiplayer action title."
In Early Access, players can already pick from two asymmetrical sides, choose from over 25 different weapons, and play countless battles to hone skills, and build up player level and (in the near future) unlock original content for Human or Squid avatars. As with any Alpha release, feedback on content and inevitable bugs is encouraged, as well as game feature tryouts that will be swapped in and out during development drops. Ultimately, Fun Bits is giving players a chance to help influence the finished product. While it is still early days, Squids from Space already contains the core functionality of a shipping game, as this is a representative example of what to expect in the future from Fun Bits, in terms of style, content and "fun factor".
"Millar and our Art Director, Arnel, provided an excellent foundation in which to create a really compelling and fun PvP experience" said Bryan Yarrow, Lead Designer of Squids from Space. "It's exciting to just jump into a game that feels so accessible, and yet has such strategic depth with so many crazy combinations of things that can happen. We've been playing the game for months, and we're still having a blast tackling different strategies daily, while creating content for future releases."
SQUIDS FROM SPACE is available now on Steam Early Access with a limited-time 15% Launch Discount.
Squids from Space will ultimately support the following languages: English, French, German, Spanish, Italian, Portuguese, Korean, Chinese, Japanese, Polish, Russian, and UK English...and possibly Esperanto, if William Shatner asks us to do it.
About Fun Bits
Fun Bits Interactive, LLC is based in Seattle, WA. The company's leaders have worked for some of the world's most innovative, successful and respected entertainment companies; Blizzard Entertainment, Microsoft, Google, Facebook, Sony, Lionhead Studios, and EA. Fun Bits has been making games, IP and VR experiences since 2010, garnering enthusiastic reviews, awards and a community of followers who enjoy and appreciate their aesthetic & unique approach to games. The company is currently working on Squids from Space in Early Access on Steam, as well as Orbital Loop, a Mobile VR Experience available only on Google Daydream.