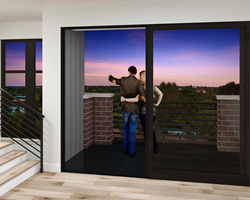 "They can live on the riverfront, steps from a trail, around the corner from a charming historic downtown, and within easy reach of downtown Denver." Jeremy Records, Central Development
Littleton, Colorado (PRWEB) June 16, 2017
A riverfront, townhome community located west of Santa Fe Boulevard and north of Belleview Avenue answers the demand for new, reasonably priced homes in Littleton, where many houses were built between 1960 and 1979. Reservations are now being accepted for Phase 2 of the 56 unit townhome community, which range from the mid $400,000s to $600,000. Phase 1 sold out in only 5 days.
Platte 56's exclusive broker recognizes consumers' desire for something new in the high-demand market. "Buyers today want a very different home than buyers did 40 or 50 years ago," said Kentwood Real Estate Broker Jill Schafer. "What sets Platte 56 apart from other developments is that many of these new homes include a roof-top deck, and all are constructed with natural elements and high-end modern design."
Central Development brought Platte 56 to life with the influence of several team members with roots in Littleton. "Platte 56 is a terrific opportunity for buyers looking for new, modern homes," said Jeremy Records, principal at Central Development. "Here, they can live on the riverfront, steps from a trail, around the corner from a charming historic downtown, and within easy reach of downtown Denver. It's exceptional living buyers won't find anywhere else in the Denver metro area at this price point."
Platte 56 offers 1,380 to 2,111 square-foot townhomes with 2- or 4-bedrooms and an optional attached two-car garage. Prospective home buyers are invited to check out the difference Platte 56 is making in the market. Interested buyers are welcome to visit the rooftop deck atop the sales center to glimpse the view they'll experience if they purchase a Platte 56 riverfront home. Visit platte56.com to check out where the adventure begins.
Media Contact:
Doug Backman at DB Marketing Ltd., 303-468-3974, doug(at)dbmarketingltd(dot)com
Broker Contact:
Jill Schafer, Kentwood Real Estate, 720-422-0950, jill(at)kentwood(dot)com