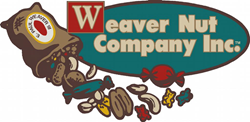 We also have many options with ingredients and centers for your chocolate manufacturing needs. All of this comes together to make a perfect fit for a long-term supplier of your candy making needs
(PRWEB) June 19, 2017
Weaver Nut Company, Inc. (http://www.weavernut.com) is pleased to announce attendance at the Retail Confections International (RCI) 100th Annual Convention and Industry Expo. As the preferred chocolate supplier for chocolatiers, pastry chefs, restaurants, bakeries, cake making supply retailers, and gourmet home cooks worldwide, Weaver Nut was proud to be among the featured exhibitors at the RCI annual event, held this year in Chicago, Illinois from June 12-16.
The 2017 Retail Confections International (http://www.retailconfectioners.org/) celebrated its 100th year as the go to Convention and Industry Expo highlighting premium ingredients, state of the art equipment, innovative packaging, as well as wholesale and business services for confectioners around the globe. This year's event featured educational sessions, workshops offering in-depth skill building, Candy Clinics, Kettle Talks, one-on-one consultations, and the expansive Expo, which featured Weaver Nut and their premium chocolate offerings.
Weaver Nut's exhibit highlighted their preferred chocolate supplier status as they showcased their delicious chocolate offerings including Wilbur Chocolate, Veliche Pure Belgium Chocolate, Merkens Chocolate, Peter's Chocolate, Cacao Barry, and more. With Weaver Nut's extensive and high quality chocolate collections coupled with Weaver's 100 percent satisfaction guarantee, the possibilities are endless. Promising premium quality, the finest taste, and ongoing availability, Weaver Nut delivers innovation and exceptional flavor for bakers, chefs, chocolatiers, and home cooks to fashion indulgent chocolate creations.
"Here at Weaver Nut Company, we are proud of our rich heritage in distribution of bulk chocolate products that many candy makers have come to expect from us far and near. We have highly skilled individuals on staff to help new customers that are just getting into chocolate making or to help guide those that are struggling with an issue. We also have many options with ingredients and centers for your chocolate manufacturing needs. All of this comes together to make a perfect fit for a long-term supplier of your candy making needs." – Vincent Weaver CFO, Weaver Nut Company, Inc.
At Weaver Nut Company, Inc., the mission is always to provide the best quality product at the lowest price, delivered on time, every time, while serving the customer "the way they want to be served."
Visit http://www.weavernut.com/and discover why Weaver Nut Company, Inc., is your preferred chocolate supplier delivering the best in chocolate from around the world!
Bio: From their basement, the Weaver Family launched their business more than 40 years ago with the mission to "serve customers as they want to be served with quality, integrity and enthusiasm." Since that time, the company has grown into Weaver Nut Company, Inc. thanks to a fully dedicated team and a vast array of satisfied customers. Today the company includes Food Brokers International, the Amish Maid™ private label, Weaver Chocolates, Land of the Gummies, and Weaver Nut Sweets and Snacks retail and online. Visit http://www.weavernut.com today, choose your favorites, and experience the delectable difference that is Weaver Nut Company, Inc.