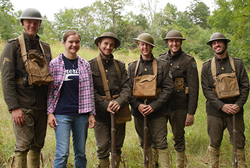 Lynchburg, VA (PRWEB) June 17, 2017
For recent Liberty University graduate Becky Barker, it wasn't enough to trudge through World War I trenches deep in the pages of history books — she was so captivated by the stories that she brought them to life on film in the forests surrounding Lynchburg.
"I fell in love with this area of history because of the many untold stories I discovered," she said. "World War I is not as thoroughly studied as the wars that came later. This is mostly because although it was a war of previously unheard of catastrophic size, World War II eclipsed it only 20 years later. WWI also fascinated me because, unlike WWII, the 'good' and 'bad' sides of the conflict are not nearly so black and white."
As a student in Liberty's Department of History, Barker took advantage of the university's cross-disciplinary program and added a minor in cinematic arts. When she discovered that she loved filmmaking, she added a cinematic arts major, and that's when she embarked on a project to bring the First World War to life. Her short film, "We are the Dead," focuses on a young soldier who must overcome fear before his first battlefield attack and an almost certain death.
"The point of the story is that although the Great War is often thought of in terms of the millions lost, every one of those numbers had a name, a family, hopes, fears, and dreams," Barker said. "My goal was to take the First World War and distill it down to a micro level, a personal level, and show the humanity in what is often characterized as an inhuman war."
Barker's dedication to uncovering history's forgotten stories led to multiple accolades. She was awarded Liberty's History Student of the Year in April 2016. The following semester, Barker was given the Zaki Gordon Award for Excellence in Screenwriting for "We Are the Dead," her thesis film.
Barker is also member of Phi Alpha Theta, the national history honor society, and presented research at a number of conferences. To cap off her education, Barker was selected as one of this year's Gilder Lehrman History Scholar Award recipients, a prestigious honor given to 15-16 college juniors or seniors from across the country who demonstrate academic excellence in American history.
"I was absolutely floored to be selected as a finalist, let alone a winner of this award," Barker said. The award came with a paid trip to New York City, which she went on last week. "To be able to represent Liberty University in New York City as one of (the) winners selected from across the country is a great honor. It says a lot about the wonderful professors and teachers I have had here at Liberty."
In addition to staple attractions like Times Square, the Empire State Building, Central Park, Rockefeller Center, Wall Street, Yankee Stadium, and the Brooklyn Bridge, Barker was given a VIP historical experience. She visited the American Museum of Natural History and the New York Historical Society Museum, heard lectures from leading scholars of American history, and viewed historic artifacts from the Gilder Lehrman Collection, including the original handwritten letter from Confederate General Robert E. Lee to Union General Ulysses S. Grant asking for a ceasefire so he could surrender, an original print of Paul Revere's drawing of the Boston Massacre, a lock of President James Madison's hair, and an original handwritten copy of the Thirteenth Amendment as well as a print of the Emancipation Proclamation, both signed by Abraham Lincoln.
"The trip was amazing," Barker said. "I had never been to New York City before, so it was wonderful to see many of the sights. The opportunity to experience and explore one of the most historic cities in the world, which also happens to be a media center, was the perfect way to celebrate graduating with both a history degree and a cinematic arts degree. I cannot thank my parents, professors, and Gilder Lehrman enough for making this possible."
Now that she has graduated, Barker is entering "We are the Dead" in film festivals. She also has completed a feature-length script about the Lafayette Escadrille, a group of American pilots who flew for France during WWI before the United States formally entered the war. (Her history capstone project also focused on the Lafayette Escadrille.) Barker plans to pursue a career as a screenwriter, writing adaptations of historically based stories.
Historical documentary filmmaking is now offered as concentration under the B.S. in History. Learn more about Liberty's cinematic arts and history programs on their respective web pages.
About Liberty University 
Liberty University, founded in 1971, is the largest private, nonprofit university in the nation, the largest university in Virginia, and the largest Christian university in the world. Located near the Blue Ridge Mountains on more than 7,000 acres in Lynchburg, Va., Liberty offers more than 550 unique programs of study from the associate to the doctoral level. More than 250 programs are offered online. Liberty's mission is to train Champions for Christ with the values, knowledge, and skills essential for impacting tomorrow's world.