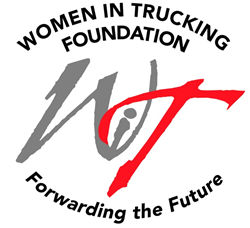 Plover, WI (PRWEB) June 20, 2017
Women In Trucking (WIT) Foundation is auctioning off the ceremonial first pitch for an upcoming Cleveland Indians game. This annual fundraiser for the non-profit organization raised $1,000 in 2016.
This fund raiser gives individuals a once in a lifetime opportunity while also supporting the trucking industry. In the past, industry related companies have bid on the first pitch and offered it to a deserving employee.
Proceeds from the auction go toward funding scholarships for students entering or advancing their careers in the transportation industry. "Seven scholarships have already been awarded this year and we are accepting applications through July 31 for the next selection process," said Debora Babin Katz, Vice President, TrucBrush Corporation and Chair of the Women In Trucking Foundation.
Last year, Amie O'Brien, who runs Leffew Fastpitch in Northern Ohio, was the highest bidder and had the opportunity to throw out the ceremonial first pitch. She is the wife of long-time WIT supporter and CEO of TravelCenters of America, Thomas O'Brien.
Now you have the same opportunity to honor a deserving employee or bid on the ceremonial pitch for yourself. The 2017 First Pitch online auction begins today, June 20 at 7:00 a.m. central and will last for ten days. 
The highest bidder in the auction will throw the ceremonial first pitch at the August 6th game against the New York Yankees in Cleveland, Ohio and also receives four game day tickets. The 1:10 pm game is also Kids Fun Days.
Auction bids can be entered online at https://www.32auctions.com/FirstPitch2017. The auction will end at 11:45 p.m. central on June 30, 2017.
To submit an application or to view scholarship requirements visit http://www.womenintruckingfoundation.org/scholarship/.
The ceremonial first pitch auction is in conjunction with the fifth annual "Women in Transportation" event. "The event brings attention to the many women who enjoy great careers in a male dominated environment," said WIT President/CEO, Ellen Voie.
Sponsors of the event include T&K Logistics, Inc., Bendix Commercial Vehicle Systems LLC, and TravelCenters of America/Petro Stopping Centers.
###
The Women In Trucking Foundation is affiliated with the nonprofit organization Women In Trucking Association, Inc., and is responsible for raising funds for scholarships and encouraging the employment of women in the trucking industry. Women In Trucking Association, Inc. is a nonprofit association established to encourage the employment of women in the trucking industry, promote their accomplishments and minimize obstacles faced by women working in the trucking industry. Membership is not limited to women, as 17 percent of its members are men who support the mission. Women In Trucking is supported by its members and the generosity of Gold Level Partners: Arrow Truck Sales, Bendix Commercial Vehicle Systems, Daimler Trucks North America, BMO Transportation Finance, Expediter Services, Great Dane, J.B. Hunt Transport, Ryder System, Inc., U.S. Xpress, and Walmart.
For more information or to donate, visit http://www.womenintruckingfoundation.org or call 888.464.9482. Women In Trucking Foundation is also registered with Amazon.com® Smile.
Follow WIT on Twitter, Facebook, or LinkedIn.