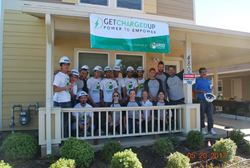 "Sunny San Diego is leading the nation in residential solar power and resettling refugees,"
San Diego, CA (PRWEB) June 20, 2017
A local nonprofit, GETCHARGEDUP is on a mission to empower refugees by preparing them for GRID Alternatives San Diego's 'Solar Installation Training Program'. Working together, GETCHARGEDUP and Grid Alternatives have installed a solar energy system for a low income refugee family, and will continue to work together to help refugees get the training and skills they need to make a living in their new home.
On May 20th, the groups installed their first solar energy system that benefited a Somali-Kenyan refugee low income family in El Cajon. The installation was part of fellow nonprofit GRID Alternatives San Diego's annual Solarthon event and served as the first hands on training project for ten refugees. Recently resettled refugees hope to enroll in GRID Alternatives' 'Solar Installation Program' preparing them for the solar jobs of the future while providing no-cost solar systems to low income families. The second installation on World Refugee Day is in San Diego also with GRID Alternatives. The free system will be 2.64kW and will provide over $24,000 in lifetime savings and will offset 51 tons of greenhouse gas emissions which is equivalent to planting 1,176 trees.
"Sunny San Diego is leading the nation in residential solar power and resettling refugees," said GETCHARGEDUP's founder and a local CleanTech Entrepreneur, Faisal El Azzouzi who himself was a refugee at an early point in his life. "Our new neighbors are signing up to learn English, carpooling to class, and are eager to get to work".
With the help of the International Rescue Committee, the Partnership for the Advancement of New Americans (PANA), the American-Arab Anti-Discrimination Committee (ADC),the Syrian Community Network (SCN), and the Arab Youth Collective (AYC), GETCHARGEDUP was able to identify motivated youths and expose our new neighbors to brighter possibilities and to prepare them for solar design and installation jobs. "By building a compassionate coalition we will start helping refugees get on their feet, and on the roof."
Supporters can learn more and donate here or RSVP to attend a special Iftar dinner on June 22nd here.
GETCHARGEDUP is not only looking to only empower refugees locally, but they are also making waves globally. The nonprofit will be providing free solar systems and computer labs to empower orphans throughout neighboring Baja, Mexico and beyond.