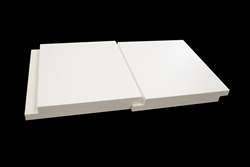 "We developed these two new profiles in response to demand from contractors and distributors across the country," stated Rick Kapres, Versatex vice presidient of sales.
Pittsburgh,PA (PRWEB) June 20, 2017
The crisp shadow lines of shiplap and nickel-gap boards for siding, interior walls and ceilings are now easily attainable in stable, maintenance-free premium PVC from Versatex Building Products, LLC.
"We developed these two new profiles in response to demand from contractors and distributors across the country. Once again, their perspective has helped us in responding to a hot design trend among homeowners and architects," says Versatex vice president of sales Rick Kapres.
This week Versatex dealers and distributors across the U.S. and Canada will begin to offer:

The all-new VERSATEX shiplap profiles, available in nominal 1" x 6" and 1" x 8", with one leg at 5/8" and the other at 1/2", for a ready-made 1/8" gap.
The innovative, reversible VERSATEX WP4 nominal 1" x 6" profile, which retains the industry-standard V-groove effect on one side but now features a nickel-gap option on the reverse.
All profiles are sold in 18' lengths that can span up to 24" on center in ceiling applications. They're equally suitable for horizontal and vertical orientation on walls, and fully compatible with the reliable, easy-to-install VERSATEX range of PVC trim elements and building materials.
"Both shiplap and nickel-gap styles have been gaining major traction for new construction as well as remodeling projects," Mr. Kapres says. While both profiles have long been associated with rustic, traditional cabins and cottages, he says, their timeless simplicity has earned them new cachet among design-conscious householders.
"Not only have we been seeing massive media coverage from consumer sources like Houzz, but our Contractor and Dealer Councils have confirmed it: Especially for high-end residential work, these surface treatments have legs."
Contractors, distributors and lumberyard operators can learn more about these and other carefree, weather-resistant VERSATEX products from regional Versatex Building Products representatives, or from Mr. Kapres at 724-857-1111 or rkapres(at)versatex(dot)com.
About Versatex
Weather-resistant, long-lasting VERSATEX trim materials and systems are manufactured by Versatex Building Products, LLC, of Pittsburgh, where state-of-the-art facilities produce cellular PVC extrusion products such as VERSATEX trimboards, sheet, T&G, moldings and prefabricated corners; the innovative VERSATEX soffit system; and dimensionally compatible VERSATEX Max nominal 2-by boards. Details are posted at http://www.versatex.com.