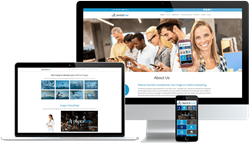 Hybrid-Responsive™ technology offers a high end, app-like interface that's engaging and aesthetically pleasing.
Cocoa Beach, FL (PRWEB) August 01, 2017
Dentalfone is excited to offer its exclusive Hybrid-Responsive™ website technology to the dental industry.
Hybrid-Responsive™ websites function at a high level on computers, providing a clean, easy-to-use, and intuitive user experience. According to Dentalfone CEO Scott Hawley, "When opened on a mobile device, such as a smartphone or a tablet, the Hybrid-Responsive™ technology performs better than other responsive website designs. It is not simply a smaller version of the website. Instead, Hybrid-Responsive™ technology offers a high end, app-like interface that's engaging and aesthetically pleasing."
As Hawley explains, "Our technology is designed to help our clients rank well in Google's search results and, specifically, in the mobile results. Since a subdomain, such as m.domainname.com, is not required, Hybrid-Responsive™ websites function from a single URL address, providing excellent mobile and desktop optimization opportunities."
For dental practices focused on superior patient service, this technology can provide an improved client experience online and help to cultivate a positive brand experience from the beginning. Since most new dental patients find a practice online, it has become even more critical for dental practices to establish and maintain a strong brand image.
According to Hawley, "Our new and cutting edge Hybrid-Responsive™ technology provides many advantages for dental practices. Its upgraded look and feel helps dental practices stand out against their competitors, both in terms of performance and design."
Many Dentalfone clients have been early adopters of the new technology and have already reported great results. New patients have had an easier time finding and using the new sites and have benefited from Dentalfone's other website features, including online scheduling requests and the ability to request reviews on Google, Facebook, Yelp, and other review websites directly from the dental practice's website.
Hybrid-Responsive™ website technology was developed specifically to benefit dental practices in performance, appearance, and functionality. As a result, Hawley says, "The Dentalfone team is excited to bring Hybrid-Responsive™ website technology to even more dental practices within the United States. We have the power to connect dental patients with the dentist or specialist that's right for them, as well as to help dental professionals reach more patients. It's a win-win."
About Dentalfone
Dentalfone is a leading provider of website development and digital marketing services for the dental industry. Dentalfone specializes in Hybrid-Responsive™ dental websites and search engine optimization (SEO). To learn more about Dentalfone or to request a consultation, call (855) 385-3663 or visit https://www.dentalfone.com.