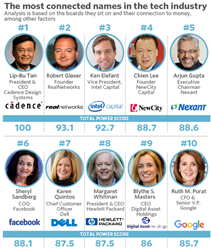 I'm humbled by the recognition and delighted to leverage my network to help SalesHood and my other portfolio companies thrive and scale, says Arjun Gupta.
San Francisco, California (PRWEB) June 21, 2017
SalesHood, the leading sales productivity platform, is excited to announce that Arjun Gupta, the SalesHood Chairman of the Board, is recognized among "the most connected technology executives" by MarketWatch
"We are building the Sales Ecosystem of the future. Our vision is to make best practices and secrets of selling in the technology industry available to every current and future sales professional on the planet," say Elay Cohen CEO of SalesHood, "and Arjun's experience and network will help turn this vision into a reality."
"I'm humbled by the recognition and delighted to leverage my network to help SalesHood and my other portfolio companies thrive and scale," says Arjun Gupta.
Sales and marketing professionals are invited to join the SalesHood Ecosystem for mentorship, sales coaching, data-driven sales insights and sales training content.
SalesHood Ecosystem Growth
In June, SalesHood recently published newly recorded TED Talk-style keynotes and interviews by industry thought leaders exclusively available in the SalesHood Ecosystem:
Kamal Ahluwalia, Chief Revenue Officer, and Aaron Farley, Head of Enablement, at Apttus share their inspirational talk about "How to Grow Revenue 50% Year Over Year."
Adam Sold, VP Sales Operations and Quyen Chang, Senior Director of Global Field Enablement at FinancialForce along with Barry Rhein, Founder of Selling Through Curiosity, share their sales transformation secrets of "How To Double Win-Rates Fast."
Sheevaun Thatcher, Head of Enablement at RingCentral, shares her years of sales enablement operational experience in her talks on the "Pillars of Sales Enablement."
Bob Kruzner, Director or Productivity at ServiceMax (a GE company), shares his sales productivity best practices in his video interview on "Modern Training and Sales Onboarding."
SalesHood is actively crowdsourcing content, data-driven insights, and best practices from thoughts leaders and practitioners in the SalesHood Ecosystem. "When I need industry insights, historical learnings or best practices, the SalesHood Ecosystem is my go-to resource. I​ know I can always rely on this vast network of industry experts​ and content ​to prepare ​and enable our employees​ for success," says Quyen Chang, senior director, Field Enablement at FinancialForce.
About SalesHood
SalesHood helps companies accelerate sales productivity by improving knowledge, sharing content, tracking effectiveness and reinforcing best practices. We simplify and automate sales productivity using short videos, mobile, bite-sized content and social learning. We make it fun and efficient for teams to become more productive. SalesHood customers are doubling win rates, increasing deal sizes, improving time to ramp, improving time to close and reducing churn. SalesHood has more than one hundred customers, thousands of teams and over twenty five thousand people from Alteryx, Apttus, Docusign, Domo, Host Analytics, FinancialForce, InsideSales, NewRelic, ServiceMax, Sonatype, Telogis, Yext, Zuora and many more. Join SalesHood today. For more information about SalesHood and a free trial, visit us at http://www.saleshood.com.
Additional Resources
Join the SalesHood Ecosystem
Read the SalesHood Blog
Read about Inspiring Women Leaders in Sales
Access the original article by MarketWatch