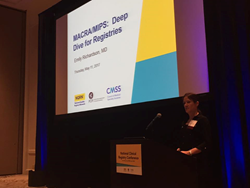 Fort Collins, CO (PRWEB) June 21, 2017
Encompass Medical Partners and Prometheus Research, LLC are pleased to present a free webinar on Wednesday, June 28, at 1 PM ET/11 AM MT, entitled "Why Aren't More Members Signing Up for Our Registry? Addressing This and Other Challenges Raised by Stewards at the 2017 National Clinical Registry Conference.
During the 2017 Conference, co-produced by NQRN and CMSS, a few clear themes emerged from a number of the registry stewards in attendance:
● Registry participation is nowhere near satisfactory, many times under 10%
● Collaboration and integration with technical partners is a struggle
● Custom and ultimately valuable analytics area challenge
●Repurposing the data for purposes outside of satisfying the regulatory requirement just doesn't work
Emily Richardson, MD, Encompass Medical Partners, and David Voccola, Prometheus Research, will delve into the root causes of these challenges and the options to overcome them—without having to hit the hard reset button and redo the registry. Dr. Richardson and Mr. Voccola outline the strategies that may ultimately help organizations move beyond their QCDR's goals for Center for Medicare and Medicaid Studies' (CMS) Quality Payment Program (QPP) to provide meaningful guidance to their members.
At the conclusion of this webinar, participants should be able to:
● Understand the inherent limitations of a QCDR-focused registry solution
● Define the root causes of key challenges described by NQRN registry stewards, e.g., low participation, poor engagement, difficult to use data
● Articulate the options for mitigating or overcoming each challenge
● Identify which challenges currently or potentially apply to your registry
This webinar will benefit prospective and existing clinical data registry and QCDR stewards, medical societies, clinician leaders in quality and performance improvement, and registry data managers and data scientists.
To register for this free webinar, please visit http://www2.prometheusresearch.com/webinar-registryrescue
SPEAKERS:
Dr. Emily Richardson joined Encompass Medical Partners as its Chief Quality Officer after eight years as a private practice anesthesiologist. She earned her MD from Creighton University, where she was awarded membership in the Alpha Omega Alpha Honor Medical Society. She is a Diplomate of the American Board of Anesthesiology.
Dr. Richardson enjoys nationally recognized expertise in the field of federal quality reporting programs and Qualified Clinical Data Registries (QCDRs). She currently serves as Chair of the Anesthesia Quality Institute's Practice Quality Improvement Committee, co-chair of the PCPI's National Quality Registry Network (NQRN) QCDR Committee, and is a member of the PCPI NQRN Steering Committee.
Dr. Richardson is an active member of the American Society of Anesthesiologists (ASA), the Anesthesia Quality Institute (AQI), the American Association for Physician Leadership (AAPL), and the National Association for Healthcare Quality (NAHQ).
David Voccola has been with Prometheus Research for more than 15 years and is the senior consultant and co-founder. His has extensive experience supporting complex clinical research and medical informatics initiatives. His consulting focuses on business process analysis and data repurposing strategies. David earned a BA from Fairfield University.
Please join us for this exciting webinar followed by a live Q&A.
Registration is free. All registrants will receive access to both the recording and slides after the event, as well as a Certificate of Attendance (COA) upon request.
Encompass Medical Partners, LLC is a medical management company that offers full-service solutions based on the specific needs of physician practices.