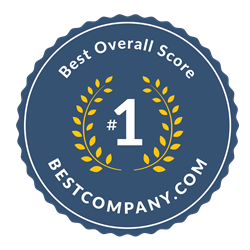 Our hope is that these recognitions can further assist consumers to identify which companies are worthy of their trust.
Pleasant Grove, Utah (PRWEB) June 20, 2017
Solar Spectrum has been awarded the "Best Overall Company" in the Solar industry by BestCompany.com, an independent consumer review site. Solar Spectrum was selected to receive this recognition from among 187 other Solar companies based on the feedback of industry experts and consumer reviews.
"On behalf of our employees and our customers, we are very proud to be recognized for this award," said Solar Spectrum CEO Patrick McGivern. "Solar continues to be a very important part of the changes needed in the energy producing sector and Solar Spectrum will continue to strive to educate consumers and strive for leadership in our great industry."
With over 385 real consumer reviews on BestCompany.com, Solar Spectrum distinguished itself from among its competitors by offering several payment options and excellent warranties. Most impressively, Solar Spectrum has earned an extremely high consumer review score of 8.8/10.
"We wish to congratulate Solar Spectrum on truly earning this designation of the best overall company in Solar," said Best Company CEO Jeff Grover. "Our hope is that these recognitions can further assist consumers with identifying which companies are worthy of their trust."
For a full list of companies considered for this award, and their respective rankings and scores, please click here.
About Best Company
Best Company ranks and reviews companies in hundreds of different industries. Unlike other review sites, companies listed on BestCompany.com cannot buy their position, nor is a company's ranking manipulated or inflated by Best Company for financial gain. A company's ranking is based on and calculated by an objective set of ranking criteria, as well as user reviews. For more information on how Best Company ranks and awards companies, click here.
About Solar Spectrum
Solar Spectrum is headquartered in Oakland, California, and offers custom design solar systems in 13 states across the nation. Its world-class crew of professionals arranges installations and ensures that projects are completed to the highest standards. After installation, Solar Spectrum provides its customers with the tools to see their energy production and savings in real-time. For more information, please visit http://www.solarspectrum.com.