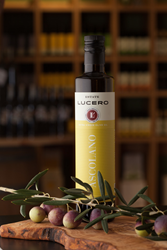 "We are committed to offering folks premium quality extra virgin olive oils that are delicious and the best expression of what a particular olive variety can be." - Liz Tagami, Lucero GM
CORNING, Calif. (PRWEB) June 20, 2017
Lucero Olive Oil, LLC, announced a record-breaking year on the competition circuit with 52 awards from New York, California, Tokyo, Calabria, and Jerusalem, including 30 gold medals, two best of show, and two best of class distinctions.
More than 40 awards came through four prestigious international competitions distinguished by high standards and discerning juries:
Olive Japan International Olive Oil Competition, New York International Olive Oil Competition, Domina International Olive Oil Competition, and TerraOlivo Mediterranean International Olive Oil Competition.
Judges for each of these competitions are trained professionals in the industry and held to the highest standard. Lucero only participates in competitions where such standards exist.
Among the top awards, Lucero Olive Oil's single variety Ascolano EVOO received "Best of Show Premier Gold" in the Olive Japan Competition, and a "Best of Class Grand Prestige Gold" in the TerraOlivo Competition for the Persian Lime Agrumato Olive Oil. However, the most acknowledged EVOO this year goes to the single variety Barnea, taking home a Gold award in every competition entered this year.
Olive oil producers face the monumental task of verifying authenticity and quality every year. For Lucero Olive Oil, this quality assurance process begins in January with an annual audit of its latest harvest oils by the California Department of Food and Agriculture. Once verified, Lucero selects its best micro-lots for the Lucero brand and sends them around the world for the industry's marquee competitions between March and early June.
Lucero General Manager, Liz Tagami explains "Our customers rely on us to provide them with high quality, authentic oil, which we validate each year with the state. We are committed to offering folks premium quality extra virgin olive oils that are delicious and the best expression of what a particular olive variety can be."
"We are extremely pleased with the results this year, and we are humbled by our hard work being recognized around the world," says Master Miller, Larry Treat. "We have excellent crew coordination between hand harvesting and machine harvesting operations and our milling team – these awards are certainly a team effort."
Kristin Cook, Director of Marketing
kristin(at)LuceroOliveOil(dot)com
877-330-2190
Liz Tagami, General Manager
liz(at)LuceroOliveOil(dot)com
About Lucero Olive Oil
Lucero Olive Oil is a wholly owned brand of Crane Mills, LLC, a small family business farming olives in Corning, California since 1947 and milling award-winning extra virgin olive oil since 2009. Lucero Olive Oils are verified by the California Department of Food and Agriculture, Certified kosher by Kof-K, and carry the Extra Virgin Alliance Seal of Quality. 17 different olive varieties are under cultivation in six orchards within 8 miles of the Lucero Olive Mill and Tasting Room. Both are open to the public daily for tours and olive oil tastings. Find out more at http://www.LuceroOliveOil.com.