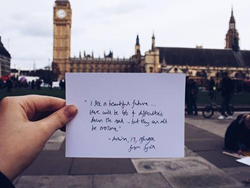 We're trying to help people make a human-to-human connection.
PORTLAND, ORE (PRWEB) June 20, 2017
Residents of Portland may encounter individually written notes this week with heartfelt messages from people around the world whose paths they would otherwise never cross. "I see a beautiful future… there will be a lot of difficulties down the road – but they can be overcome," reads one postcard, written by a 17-year-old girl from Syria.
Distributed at businesses and other organizations around town, the postcards are part of an effort to engage the general public on a topic that can sometimes feel inaccessible. "We mined all our reporting trips to the field for quotes from refugees about their situation and how they look to the future," says Megan McMorran, Director of Community Engagement at Mercy Corps. "We're trying to help people make a human-to-human connection."
With numerous humanitarian crises unfolding around the globe, today one in 100 people in the world – 65.6 million -- has been forcibly displaced. Never since the United Nations High Commissioner for Refugees began collecting this data in 1951 has this number been so high.
The project was inspired by a similar Mercy Corps initiative that took place in Edinburgh and London earlier this year.
Mercy Corps is a leading global organization powered by the belief that a better world is possible. In disaster, in hardship, in more than 40 countries around the world, we partner to put bold solutions into action—helping people triumph over adversity and build stronger communities from within. Now, and for the future.
Join us and support Mercy Corps' work around the world.