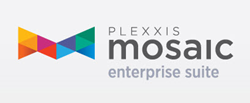 mosaic WinBID concrete estimating software is a team based estimating system that works off the same database used by project managers, the field and accounting
Toronto, ON (PRWEB) June 20, 2017
Plexxis Software today announced the release of its latest in a series of software innovations – Mosaic WinBid | DTO for the concrete industry. This unique solution combines the extreme flexibility in concrete estimating software with instant bid-to-budget functionality, purchasing, bid security, and a live connection to project management, field apps and accounting. Details of this product's features and benefits can be viewed on the company website.
Said Chad Pearson, Director of Business Development, "mosaic WinBID concrete estimating software is a team based estimating system that works off the same database used by project managers, the field and accounting. It is the bow that ties the entire company together and eliminates the gaps between all systems, spreadsheets and apps that specialty contractors are accustom to using every day."
How does Plexxis concrete estimating software benefit individual stakeholders?

Chief Executive Officers get full insight into how each department performs against the budget in a real time basis.
Project Managers can create revisions to awarded bids and track the revisions, so the original bid is always available, while the working budget is automatically adjusted with data from the most current revisions.
Estimators work as a team sharing a common database and standardized practices, enjoy instant bid-to-budget on awarded jobs, and stay connected with all business functions, so they automatically get the feedback needed to improve production formula and pricing.
Materials/Purchasing Managers have their material budgets per subsection automatically prepared for them, with each item converted into their unit-of-measure, and purchasing protections activated to eliminate errors in ordering.
Foremen/Supervisors have instant real time visibility into labor budgets in man hours per cost code, including approved and pending changes, as well as live material budgets in quantities inclusive of approved and pending changes.
About Plexxis
ABOUT PLEXXIS SOFTWARE
Plexxis Software creates single source construction management software for specialty contractors. All solutions are designed on a powerful enterprise class database with purpose driven features for estimating, project management, accounting, mobile apps, and business intelligence.