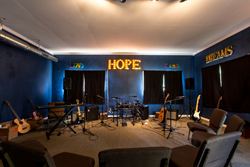 "More of our clients stay in treatment because, as focus group research tells us – they like being in our program, which is not always the case elsewhere. Also, more therapy equals better results," says Paul Pellinger, Recovery Unplugged®'s Chief Strategy
Austin, Texas (PRWEB) June 20, 2017
Recovery Unplugged® Treatment Center, the Fort Lauderdale, Florida drug rehabilitation facility that uses a unique, individualized, music-based approach to creating long-term recovery, will mark the opening of their Austin, Texas Music "Encore Outpatient" treatment facility on July 5, 2017.
The number of patients completing the Recovery Unplugged® program and still sober exceeds three times the national average for addicts who have completed rehab programs. Nova Southeastern University is now studying the Recovery Unplugged® program, with research results scheduled for release by year's end. Their focus group research bears out the facility's low 9% AMA rate – which describes the number of patients who leave treatment before completion. This compares to the national average of 39%. "More of our clients stay in treatment because, as focus group research tells us – they like being in our program, which is not always the case elsewhere. Also, more therapy equals better results," said Paul Pellinger, Recovery Unplugged®'s Chief Strategy Officer.
The medical staff at Recovery Unplugged® – Texas is led by Carlos F. Tirado, M.D., M.P.H., F.A.B.A.M. Dr. Tirado is a recognized leader in the field of addiction medicine who has held medical director positions at community based non-profit and private for-profit residential, intensive outpatient, outpatient and opioid treatment programs. Recovery Unplugged® – Texas offers its own detoxification facility and in-patient residential treatment.
For more information on Recovery Unplugged® – Texas and the Recovery Unplugged® program, go to http://www.recoveryunplugged.com.
About Recovery Unplugged®
Recovery Unplugged® Treatment Center is an alcohol and drug rehabilitation facility based in Florida and Texas that offers a unique and long lasting approach to recovery. The center combines traditional and cognitive behavioral approaches that use music as a catalyst to break down defenses, inspire, and motivate the change necessary for long-term recovery and sobriety. Recovery Unplugged® is committed to providing hope and healing using music to help individuals suffering from addiction all over the United States. The Austin facility is located at 14109 FM 969, Austin, TX with the Encore outpatient facility on South Congress Avenue and can be reached directly at (855) 204-2029.