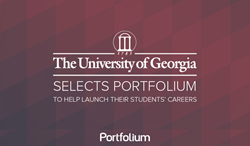 We view Portfolium's ePortfolios as great developmental instruments to help students share and expand their interests and talents with fellow students, faculty and potential employers
San Diego, CA (PRWEB) June 21, 2017
Portfolium, an ePortfolio network that enables students to capture, curate, and convert academic skills into job offers, announced today that they have partnered with the University of Georgia (UGA). The move builds on Portfolium's partnership with the University System of Georgia (USG) and will allow UGA's more than 36,000 students to develop three-dimensional portfolios highlighting achievements and competencies gained through classroom work and co-curricular work.
Founded in 1785 as the first state-supported public university in the United States, the University of Georgia occupies 762 acres of beautiful rolling hills, gardens, and extensive green space adjacent to the town of Athens. U.S. News & World Report's 2017 survey ranked the flagship university at 18th best among all U.S. public institutions. UGA offers over 140 degree programs covering a wide array of disciplines.
"We view Portfolium's ePortfolios as great developmental instruments to help students share and expand their interests and talents with fellow students, faculty and potential employers," said Maggie O'Brien, Career Consultant at the University of Georgia. "We prioritize student development and are always looking for ways to help students better understand the skills and competencies they gain throughout their time at UGA and feel Portfolium's user-friendliness and visual appeal will be a great tool to support this priority."
"Portfolium will help prove UGA students graduate career-ready with the skills and competencies matching the needs of the workforce," said Troy Markowitz, VP Partnerships at Portfolium. "The platform enables students to achieve a comprehensive, holistic understanding between academic credentials, extracurricular activities and their future career destinations."
The Portfolium network will exponentially enhance the ability for University of Georgia students to stand out from the crowd in job searches by showcasing skills obtained through UGA co-curricular activities in addition to their academic accomplishments.
ABOUT PORTFOLIUM: Portfolium partners with colleges & universities to help students transform learning into opportunity. Our ePortfolio network helps millions of students and alumni from over 2,000 institutions manage their skills and launch their careers. Portfolium's cloud-based platform empowers students with lifelong opportunities to capture, curate, and convert skills into job offers, while giving learning institutions and employers the tools they need to assess competencies and recruit talent.