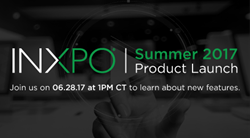 Chicago, IL (PRWEB) June 21, 2017
On June 28 INXPO is hosting their Summer 2017 Product Launch broadcast announcing updates to their video streaming platform for the enterprise.
INXPO STUDIO, the leading HTML5 webcasting and broadcasting video platform, is now available within INXPO's Online Events and Video Portals products. In addition, a new content focused responsive online event theme, and updates to the STUDIO editor tool will be made available this release.
"Online Events customers will be pleased with the array of new choices they have when building their event spaces. The new Flow event theme allows for greater flexibility in design and delivery so mobile and desktop users alike can have the same engaging experience," Ryan Vahey, Director of Product at INXPO said.
The program will also feature a panel discussion, and debate between INXPO CEO and President on what to consider first when creating your online event – the content or the audience? The panel will cover the advancement of webcasting capabilities, that can elevate your events beyond the traditional webcast driven by slides. Industry thought leader and video expert, Ben Chodor will be on the panel as INXPO's new Global Head of Video Strategy.
"The traditional webcasting format is evolving, and clients are reinventing the way they communicate with their audiences. With INXPO STUDIO it is easier than ever to leverage video for a variety of different use cases," Chodor said.
For more information on our upcoming release, tune into the INXPO Product Launch broadcast on June 28, at 1p.m. CT. To register, visit http://www.inxpo.com/productlaunch.
About INXPO
INXPO is the video platform trusted by enterprises, built upon a secure, reliable and scalable foundation that has powered thousands of events and touched millions of users. From fully branded webcasts or online events, to enterprise video portals, our versatile products empower our clients to authentically reach their audiences. Built for marketing, corporate communications, sales enablement and training, our technology delivers engaging video experiences. Many of the world's leading brands trust INXPO to extend their reach, drive engagement and maximize ROI while meeting their business goals. Our customers include market leaders such as Aon, Cisco, Hyatt, IBM, Microsoft and several others.
To learn more about how INXPO can fit into your organization's communications strategy contact us at contactus(at)inxpo.com or call us at (312) 962-3708.