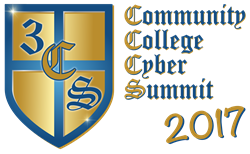 3CS helps us protect ourselves now and in the future from debilitating cyberattacks which threaten our businesses, our privacy, our lives, and our democracy.
Largo, Maryland (PRWEB) June 22, 2017
At a time when the U.S. is rapidly trying to build a cybersecurity infrastructure to combat the constant threat of cyberattacks, the Community College Cyber Summit (3CS) is gearing up to train, educate and develop the future cyber workforce. The fourth annual 3CS is scheduled for June 28 to 30 at Prince George's Community College and National Harbor, Maryland.
This year's theme is "Strengthening Our Cyber IQ" and follows one of four tracks: new to cybersecurity, experienced in cybersecurity, cybersecurity across the curriculum, and student track. A new pre-Summit Job Fair for students and recent graduates is scheduled for the morning of June 28. All interested participants should come with a resume.
3CS is the only national academic conference of its kind focused solely on cybersecurity education at community colleges. With nearly 1,500 community colleges in the U.S. and an expected cybersecurity workforce shortage, faculty and staff from these schools are flocking to 3CS to get ahead.
"By spreading the cybersecurity message among community colleges throughout the country, 3CS helps us protect ourselves now and in the future from debilitating cyberattacks which threaten our businesses, our privacy, our lives, and our democracy," said Dr. Robert Spear, Chair of 3CS.
3CS aims to aid the needed workforce by providing training, presentations, sharing of ideas, networking, and the inaugural job fair to ultimately assure students are properly educated in the cybersecurity field. Faculty and administrators as well as students, those interested in becoming involved in cybersecurity and others who want to incorporate cybersecurity into curricula at the community college level are given the leverage of diverse education through the summit.
Maryland was chosen as the host state for 3CS, as it is racing to create a cyber warfare data center as the competition to become the "Silicon Valley for cybersecurity" across the country heats up, as stated in csmonitor.com. That growth is key as the global cybersecurity market is expected to increase from $67 billion in 2011 to $156 billion by 2019 according to research firm Markets and Markets.
About Community College Cyber Summit: 
The Community College Cyber Summit (3CS) is organized and produced by the National CyberWatch Center, National Resource Center for Systems Security and Information Assurance (CSSIA), CyberWatch West (CWW), Cyber Security Education Consortium (CSEC), Broadening Advanced Technological Education Connections (BATEC), and Advanced Cyberforensics Education (ACE) Consortium, which are all funded by the National Science Foundation (NSF). The outcomes of 3CS will leverage community college cybersecurity programs across the nation by introducing the latest technologies, best practices, curricula, products, and more. To learn more, visit my3CS.org
About Prince George's Community College
Named a National Center of Academic Excellence in Information Assurance designated by the National Security Agency and Department of Homeland Security (2015-2020), Prince George's Community College (PGCC) provides high quality education and training for the progressive and career-oriented residents of Prince George's County. From new high school graduates and career seekers, to more seasoned professionals and senior citizens looking to enhance their skillsets, PGCC is comprised of students who represent a wide range of ages, backgrounds, and goals. Serving more than 40,000 individuals annually, the college is the first choice for higher education for residents of Prince George's County. Collaborative partnerships, responsive degree and training programs, and a commitment to student success enables PGCC to address diverse education and workforce development demands. PGCC is fully accredited by the Middle States Commission on Higher Education through 2025. For more information, visit the college website at http://www.pgcc.edu.