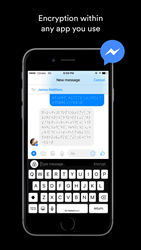 We take privacy seriously so we brought end-to-end encryption to apps you love.
Berkeley, CA (PRWEB) June 26, 2017
Mobile app users around the world can finally ensure security and privacy of their conversations, thanks to CipherBoard. This just launched secure keyboard promises to be a game changer in an age where millions of people use mobile apps to convey all types of messages for different purposes. CipherBoard offers end-to-end encryption within any app, and restricts all third parties from barging into these conversations. Android and iOS users can now download CipherBoard without spending anything at all.
Privacy is one of the foremost requirements for people accessing their personal emails, banking apps and diverse social networking communities via their smartphones. However, unfortunately, the need for a sufficiently secure keyboard has not been fulfilled by any of the existing keyboard apps. CipherBoard was designed to solve this severe security flaw faced by the online world. This robust security solution stands out from other available secure keyboards by virtue of its unique feature that allows both Android and iOS users to write and send encrypted messages.
Some of the most important features of CipherBoard include

Provides encryption, authentication, deniability and perfect forward secrecy.
Once encrypted, the messages can only be decrypted by the target recipient.
Keyboard with full set of emojis for sharing different feelings easily
The keyboard's artificial intelligence improves accuracy and speed by learning user behavior and automatically fixing the typos and errors.
No-cost downloads for both Android and iOS platforms.
CipherBoard has been created by Siddharth Singhal, an experienced digital security industry professional. Discussing the ever-increasing need for privacy in the virtual world, he says, "Every day we use our smartphones and tablets to send emails, type notes, write to our loved ones and a long list of other ways. With nearly all of these things, we would prefer to maintain confidentiality of our communications."
Highlighting the utility of CipherBoard in this context, Siddharth also added, "CipherBoard provides you with the fully functional keyboard app features with added end-to-end encryption across any iPhone or Android app. Now you can have a secure conversation within your favorite email application or Facebook, WhatsApp, Tinder or the web. CipherBoard is the first fully encrypted keyboard that you can use across platforms!"
To ensure a more discrete user experience, iOS and Android users can visit http://www.cipherboard.com
Download Links:
https://itunes.apple.com/sg/app/cipherboard-secure-encrypted-keyboard/id1158856916?mt=8
https://play.google.com/store/apps/details?id=com.cipherboard.keysec&hl=en
About CipherBoard: CipherBoard is a cutting-edge secure keyboard that makes conversations across different iOS and Android Apps private and secure. In addition to standard features such as word prediction, auto-correct, emojis, it also helps writing and sending encrypted messages that can only be decrypted by the intended recipient. CipherBoard is now available for no-cost download at iTunes and Google Play.