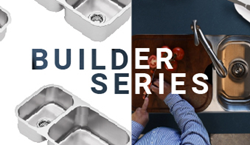 The reputation of any contractor will surely be enhanced by the consumer who is pleased to be given real choices.
Toledo, OH (PRWEB) June 26, 2017
MR Direct is proud to announce that the Builders Series of stainless steel sinks is being expanded. Due to the ongoing success of this sink-design concept, a new line of 3/4″ radius basins is now being added. Mirroring the existing 3218 collection, the new series features the addition of two offset designs, each with the smaller basin positioned on the left or the right of the main one. These new sinks, the 3160L and 3160R, combined with the existing 3120D (two equal bowls) and 3120S (single bowl), make a complete, four-piece, interchangeable set – all with the same footprint in the counter.
The Builders Series presents advantages for both the contractor and the consumer. Builders are able to expedite construction projects by pre-cutting countertops. They can also keep a standing inventory of sinks; knowing that whether it be a 3/4″ radius, or a 3218 style, any of the four choices in each line will be a perfect fit. And, should the consumer ever decide they want a differently formatted sink, it can be replaced with little effort. The reputation of any contractor will surely be enhanced by the consumer who is pleased to be given real choices.
Like all stainless steel sinks from MR Direct, the durability of a Builder Series sink is exceptional. Drop a dish in it, no chipping; spill a glass of red wine in it, no staining; leave food scraps in it, no lingering odors. It's a tough material.
All of the sinks in the Builders Series are constructed of 304-grade, cold-rolled stainless steel. The 3218s are offered in a choice of the industry-standard 18-gauge thickness, or a 25% heavier 16-gauge. The new 3/4″ radius series sinks are offered in these two gauges; but also in a new 14-gauge – 60% heavier than the 18-gauge standard. MR Direct is the first in the kitchen and bath industry to offer this extreme thickness in the residential market.
The tight curved corners of the 3/4″ radius series offer maximum sink space and simple maintenance. Sound-dampening pads applied under the sink diminish the noise of running water. An undercoating sprayed over the entire exterior prevents condensation and further reduces any sound. All models have a brushed satin finish which is not only beautiful, but masks any scratches as well.
All of the new 3/4″ radius models, and the existing Builders Series sinks, can be reviewed by visiting the MR Direct website at: http://www.mrdirectint.com/.