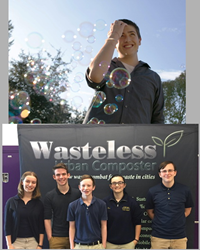 The Paradigm Challenge motivates students to collaborate with each other to address serious challenges facing our society.
Los Angeles, CA (PRWEB) June 22, 2017
A Florida teen who invented bottleless shampoo balls and a team of Connecticut teens who invented a wasteless urban composter have tied for 1st Place in the 14-18 age group in The Paradigm Challenge, the world's largest youth innovation and kindness competition. Students aged 4 to18 from 173 countries participated in this year's competition, which challenged students to come up with new ideas to reduce waste in homes, schools, communities, and/or around the world.
Benjamin Stern, an 18-year-old from Melbourne, Florida, invented a novel way to package and dispense shampoo without using plastic bottles. Each year in the US alone, almost 1,200 football stadiums worth of shampoo bottle waste flood our oceans and landfills. "This constant buildup of plastic material is incredibly unsustainable, and lethal to the mammals and soil around us," explained Stern. "It's disheartening to see this damage done to my home, and I want to help in any way I can. If that is changing an age old industry, so be it."
Stern's bottleless shampoo invention, called "Nohbo" balls, has been a significant undertaking, requiring a time commitment and focus unusual for a high school student. Stern's inventive process has gone through several stages, particularly in preparation for Nohbo's debut last year on ABC's Shark Tank.
Stern is passionate about providing youth with opportunities like The Paradigm Challenge. "The Paradigm Challenge inspires students to tackle real world issues, work in groups to solve them, and be rewarded for our participation in social entrepreneurship," noted Stern. "It exemplifies youth impact in our very own future, and proves how we can make the world better together, without letting societal means of age requirements dictate our participation one way or another."
Nora Heaphy, a 17-year-old team leader for Wasteless's "Urban Composter" invention, agrees with Stern, "The Paradigm Challenge motivates students to collaborate with each other to address serious challenges facing our society." A 25+ person team at New Haven, Connecticut's Engineering and Science Magnet School is working together, each person with his or her own specialization, to turn the invention into a viable enterprise.
The Wasteless team designed the Urban Composter to intercept food waste before it enters landfills, thereby minimizing a major source of methane in the Earth's ecosystem. Wasteless's Urban Composter uses a dumpster-style interface with innovative in-vessel composting technology to enable urban businesses to compost organic waste. This accessible and easy-to-use device promotes sustainable waste disposal and allows restaurants and other organizations to comply with composting laws. Team member Owen Heaphy, 15 years old, is proud of the group's effort, "Innovations made to reduce waste are incredibly important for creating a greener brighter future for my generation and generations to come."
The Wasteless team also created a business plan and built out an entire delivery system for their concept, including 3D modeling designs, a mobile app, educational game, commercial, infomercial, mini-documentary, and animation. With the help of their teacher, Leon Tynes, they learned and used many different technologies along the way, including Blender, Arduino, Bluetooth, MIT App Inventor, Bloxels, and Final Cut Pro.
Nohbo and the Urban Composter are in competition with the Paradigm Challenge 1st Place winners from two other age groups for The Paradigm Challenge Prize of up to $100,000, to be awarded at a black-tie ceremony in Los Angeles on July 29, 2017.
In addition to awarding cash prizes, the private foundation behind The Paradigm Challenge is committed to turning the best student ideas into reality. "We want to empower students to help address real-world problems and, when they do, we will help implement those ideas," said Jeff Richardson, the CEO and Founder of Project Paradigm, the private foundation that funds and runs The Paradigm Challenge. Project Paradigm awarded last year's Paradigm Challenge Prize winner, "The Fire Mitt," an all-expenses-paid patent application and is exploring options for getting the product developed and to market. The patent applications are filed in the inventors' names and the student inventors retain all intellectual property rights.
Each year, The Paradigm Challenge offers $250,000 in prizes to the top 100 Finalists and their inspiring teachers. The winning entries this year tackle waste reduction from different angles, including inventions, scientific research, mobile apps, community service projects, documentaries, websites, public service videos, and children's books. The 100 Finalists are posted on Project Paradigm's website, http://www.projectparadigm.org, for public voting.
"The students' determination and commitment to find creative solutions to real-world problems are evident in each and every idea," noted Richardson. The competition, in its second year, has been recognized twice by The White House for its contribution to youth innovation learning. Project Paradigm's free student-led video lesson plan helps students break down problem-solving into easy, manageable steps to get from problem to solution.
The next Paradigm Challenge inspires students to generate new ideas to improve personal health through wellness and healing and will officially launch on August 1, 2017. The entry deadline is May 1, 2018.
About the Paradigm Challenge: The Paradigm Challenge is an annual competition created by Project Paradigm in collaboration with the American Red Cross and supported by a coalition of partners, including Youth Changing the World and the National Youth Leadership Council. The theme of the competition will change annually.
About Project Paradigm: Project Paradigm, a national private foundation headquartered in Los Angeles, California, aims to identify, support, and collaborate with passionate individuals and organizations to inspire, lead, and facilitate paradigm shifts in the approaches to global challenges. Learn more at projectparadigm.org/founder. Or like us on Facebook and Twitter (@ParadigmChlleng).