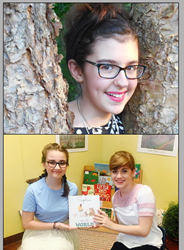 The Paradigm Challenge taught me that one person can truly make a difference in the world.
Los Angeles, CA (PRWEB) June 22, 2017
A Tennessee 8th grader who developed an algorithm to deliver wind power more efficiently and a team of Florida students who created an educational storybook about the environment have tied for 1st Place in the 9-13 age group in The Paradigm Challenge, the world's largest youth innovation and kindness competition. Students aged 4 to18 from 173 countries participated in this year's competition, which challenged students to come up with new ideas to reduce waste in homes, schools, communities, and/or around the world.
Sofia Tomov, a 13-year-old from Knoxville, Tennessee, used her prior experience working with artificial intelligence to develop her award-winning innovation -- Hybrid Algorithms for Wind-power Computation (HAWC). HAWC uses machine learning to more accurately predict turbine power output. Inaccurate predictions, which will be minimized by HAWC, force utilities to use expensive backup plants.
"My innovation can help reduce the need for wasteful backup plants, saving utility companies energy and money," explained Tomov. "By reducing waste, my project can give utility companies a stronger incentive to use wind power. This can enable the growth of wind power."
Prior to HAWC, Tomov developed an algorithm to determine whether patients have mutations in their genomes. Research has shown that patients' adverse reactions to prescription drugs can sometimes be tied to differences in their DNA due to mutations. Tomov's algorithm was a national finalist in the Discovery Education 3M Young Scientist Challenge.
Tomov believes young people can find solutions to even the most difficult problems because "young people look at a problem with fresh eyes, and without preconceptions about what is impossible." She credits The Paradigm Challenge with teaching her to "believe in my ability to solve problems, and inspiring me to continue solving problems in the future."
Catie Tomasello, the co-author of "Sophia Saves the World," which tied with HAWC for 1st Place, agrees, "The Paradigm Challenge taught me that one person can truly make a difference in the world."
Tomasello and her teammate, 12-year-old Paige Atkinson, created "Sophia Saves the World," a picture book starring a little girl named Sophia who works with the animals of the forest to reduce waste and protect the environment. "Saving the world is important to me because I live here and my kids will live here," explained Atkinson. "The Earth is a hand-me down. We should not hand it down polluted and wasted."
Atkinson and Tomasello learned how to master Adobe Illustrator CC to create their book. After it was published, they read it to a local kindergarten class. The kindergarteners were entranced and many of them identified with Sophia. "Sophia taught everyone, including me, that everyone has a little bit of a Sophia in them and you've just got to figure out how to unlock your Sophia," recalled Atkinson. Atkinson's and Tomasello's goal is to have copies of "Sophia Saves the World" in classrooms throughout the country.
HAWC and "Sophia Saves the World" are in competition with the Paradigm Challenge 1st Place winners from two other age groups for The Paradigm Challenge Prize of up to $100,000, to be awarded at a black-tie ceremony in Los Angeles on July 29th.
In addition to awarding cash prizes, the private foundation behind The Paradigm Challenge is committed to turning the best student ideas into reality. "We want to empower students to help address real-world problems and, when they do, we will help implement those ideas," said Jeff Richardson, the CEO and Founder of Project Paradigm, the private foundation that funds and runs The Paradigm Challenge. Project Paradigm awarded last year's Paradigm Challenge Prize winner, "The Fire Mitt," an all-expenses-paid patent application and is exploring options for getting the product developed and to market. The patent applications are filed in the inventors' names and the student inventors retain all intellectual property rights.
Each year, The Paradigm Challenge offers $250,000 in prizes to the top 100 Finalists and their inspiring teachers. The winning entries this year tackle waste reduction from different angles, including inventions, scientific research, mobile apps, community service projects, documentaries, websites, public service videos, and children's books. The 100 Finalists are posted on Project Paradigm's website, http://www.projectparadigm.org, for public voting.
"The students' determination and commitment to find creative solutions to real-world problems are evident in each and every idea," noted Richardson. The competition, in its second year, has been recognized twice by The White House for its contribution to youth innovation learning. Project Paradigm's free student-led video lesson plan helps students break down problem-solving into easy, manageable steps to get from problem to solution.
The next Paradigm Challenge inspires students to generate new ideas to improve personal health through wellness and healing and will officially launch on August 1, 2017. The entry deadline is May 1, 2018.
About the Paradigm Challenge: The Paradigm Challenge is an annual competition created by Project Paradigm in collaboration with the American Red Cross and supported by a coalition of partners, including Youth Changing the World and the National Youth Leadership Council. The theme of the competition will change annually.
About Project Paradigm: Project Paradigm, a national private foundation headquartered in Los Angeles, California, aims to identify, support, and collaborate with passionate individuals and organizations to inspire, lead, and facilitate paradigm shifts in the approaches to global challenges. Learn more at projectparadigm.org/founder. Or like us on Facebook and Twitter (@ParadigmChlleng).