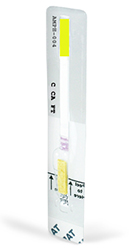 The AMPH test enables dairies and food manufacturers to detect florfenicol in raw commingled milk as well as detecting thiamphenicol and the banned antibiotic chloramphenicol
Lawrence, MA (PRWEB) June 22, 2017
Charm Sciences, Inc. is pleased to announce that its Charm Amphenicol (AMPH) test has completed ILVO validation. The AMPH test was determined to be appropriate as a screening test at dairies and farms for raw commingled cow milk. The test was evaluated for visual interpretation, on the Charm EZ system, and the Charm EZ Lite system. These systems are a combination incubator and reader in one.
"The AMPH test enables dairies and food manufacturers to detect florfenicol in raw commingled milk as well as detecting thiamphenicol and the banned antibiotic chloramphenicol," said Robert Salter, Vice President of Regulatory Affairs. "These antibiotics are not intended for use in lactating animals that produce milk for human consumption, but veterinarians may use florfenicol for animal health and welfare. Florfenicol appears in the top 20 animal drugs in a milk residue risk ranking done by FDA-CVM (Center for Veterinary Medicine) in 2015. It is important to give farmers and dairies a quick and accurate method of detection to verify the residue can no longer be detected in the milk when this drug has been used. The ILVO validation is a third party validation to demonstrate the method is suitable for purpose as a raw milk screening test."
Residue free raw milk yields negative results greater than 99% of the time. The AMPH method meets EU MRL and EU MRPL sensitivity regulations, and US Tolerance Levels.
About Charm Sciences, Inc.
Charm Sciences is a leading world provider of food safety, water quality and environmental diagnostics. Charm's diagnostics portfolio includes test kits and systems for antibiotics, mycotoxins, pesticides, alkaline phosphatase, pathogens, end product microbial assessment, allergen control, water quality and ATP hygiene. Directly and through its network of distributors, Charm products serve the food, beverage, water, pharmaceutical, medical, personal care, environmental, and industrial markets in more than 100 countries. Customers rely on Charm products for excellence in quality, innovation and customer support.
About ILVO
ILVO, Flanders research institute for agriculture, fisheries and food (Melle, Belgium), is the EU reference laboratory for antibiotics and the national reference laboratory of Belgium. ILVO performs screening test validations according to the European Commission Central Reference Laboratory Screening Test Guidelines also being adopted by the International Dairy Federation.
About FDA Risk & Safety Assessment
"The Food and Drug Administration (FDA) uses risk analysis, a concept and framework fostered by the World Health Organization, to ensure that regulatory decisions about foods are science-based and transparent." The Multicriteria-based Ranking Model for Risk Management of Animal Drug Residues in Milk and Milk Products was released in April 2015. To learn more, visit http://www.fda.gov.
© 2017 Charm Sciences, Inc. Charm and Charm EZ are registered trademarks of Charm Sciences, Inc.