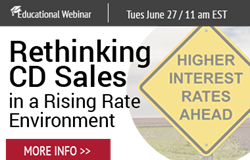 LOUISVILLE, KY (PRWEB) June 22, 2017
BSG Financial Group, a leading provider of revenue-enhancement programs and compliance solutions for financial institutions nationwide, will present a webinar on Tuesday, June 27 at 11 a.m. EST entitled, "Rethinking CD Sales in a Rising Rate Environment." The free webinar—which is part of an ongoing educational series that the company provides for its clients and potential customers—will offer guidance to community institutions about time deposit management during this period of rising interest rates.
BSG Financial Group is hosting this webinar in response to the Federal Reserve's recent interest rate hike on June 14, 2017–the third increase since December, 2016. These rate hikes represent an increase in the cost of wholesale funding and may signal difficulty in attracting and retaining interest bearing deposits. The webinar will help financial institutions prepare for this changing landscape and analyze the need for a new approach to managing the CD to ensure compliance and a healthy balance sheet.
In the 60-minute session, speaker Neil Stanley, CEO & Founder of The CorePoint, will share the important economic implications of rising interest rates and the challenges and opportunities in selling time deposits in the current environment. He will also:

Help financial institutions rethink CDs appropriately, including the level of focus as part of the overall bank portfolio
Debunk myths about time deposits
Provide recommendations, including what most financial institutions across the country are doing to attract and retain CDs
Who: BSG Financial Group in conjunction with The CorePoint
Presenter: Neil Stanley
When: Tuesday, June 27 at 11 am EST
Registration: http://www.bsgfinancial.com/CDSalesWebinar
Who Should Attend: Chief Executive Officers; Chief Financial Officers; Chief Retail Officers; Chief Marketing Officers
 
About BSG Financial Group
Louisville, Ky.-based BSG Financial Group is a group of independently organized companies that provides revenue-enhancement and compliance solutions for financial institutions nationwide. BSG Financial Group has been a provider of innovative overdraft programs since 1999, including the industry's first cloud-based overdraft management solution, Courtesy Connect®/Courtesy Limit™.
 
The company's additional revenue-enhancing solutions include: Fee-Based Packaged Checking Accounts; Digital Lending Solutions; Vendor Management; Account Acquisition Strategies; and Social Media Management.
 
BSG Financial Group includes the following companies: CourtesyCloud Management Solutions, LLC; BSG Financial, LLC; and IQ Development, LLC. For more information about the company, visit http://www.BSGfinancial.com.
 
About The CorePoint
The CorePoint was launched in 2010 – built by bankers for bankers – and is located out of Omaha, NE. The CorePoint offers a combined approach through strategic and patented processes, frontline training, and a unique technology platform. The company now serves financial institutions across the country and is invited to present at local and national conventions as the expert in CD management and sales. For more information about the company, visit http://www.bank-ps.com.