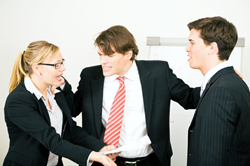 The teamwork experience doesn't appeal to everyone, and in some cases, for good reason.
Montreal, Canada (PRWEB) June 24, 2017
A "Rah Rah Go Team" atmosphere doesn't appeal to everyone who works together. Yankees teammates Derek Jeter and Alex Rodriguez allegedly weren't very chummy. Neither were Batman co-stars Jim Carrey and Tommy Lee Jones, or Star Trek space travelers William Shatner and George Takei. And teaming up with Steve Jobs supposedly wasn't a pleasant experience for everyone. So why can't people just get along? According to research from PsychTests, there are specific aspects of teamwork that rub some people the wrong way and that can kill the spirit of camaraderie.
Analyzing data from 18,869 people who took their Team Player Test, PsychTests' researchers uncovered 14 reasons why people have qualms about working on a team:
1) 60% of people hate working with a team member who can't keep up with the rest of the group. Whether it's a lack of skill or experience, less productive members appear to slow the rest of the team down.
2) 50% of people are frustrated by team members who don't pull their weight, leaving others to pick up the slack.
3) 43% of people can't stand the delays that take place before a team project kicks off, like planning, role assignment, brainstorming meetings, etc.
4) 40% of people are frustrated by a lack of role clarity. Not knowing who handles which tasks, to whom to report, or who makes the final decisions leaves team members confused and results in a less committed effort.
5) 36% of people admit that they feel inferior to their colleagues, and are worried that they won't be able to handle their assignments or keep up with the pace of the team, leaving others waiting for them to finish their part of the project.
6) 33% of people hate the fact that working on a team reduces the potential for individual glory and therefore, don't want to have to share credit or praise.
7) 33% of people have had to work with at least one person they really hated, and are worried about having to do the same in the future.
8) On the flipside, 28% of people are concerned that their teammates won't like them, or enjoy working with them.
9) 28% of people believe that creating a quality product is difficult, if not impossible, when working with others. They believe that there is a higher potential for error when working on a team.
10) 22% of people hate not having full control over a project.
11) 21% of people are worried about having their suggestions or ideas criticized.
12) 21% dislike the social aspect of teamwork, and are worried about making a fool of themselves when they speak up.
13) 20% don't like the idea of having to share decision-making power and having to reach a consensus with other teammates for every decision.
14) 14% actually resent having to share their good ideas with other people on the team.
"Teamwork has become a major aspect of pretty much all organizations, which is why almost every job posting you see will emphasize the desire for a 'team player'," explains Dr. Jerabek, president of PsychTests. "The problem is that the teamwork experience doesn't appeal to everyone, and in some cases, for good reason. Having had to work with someone who is domineering or a slacker can leave some employees traumatized or biased against teamwork. For those who want to be able to stand out because of their achievements, the collective effort of teamwork doesn't always make this possible. For less outgoing employees, the simple need to be around and socialize with others is enough to make them think twice about joining a team. While it's true that some of the anti-team concerns uncovered in our study revolve around personal hang-ups – insecurity, need for admiration – it's important for managers to keep in mind that the hiring process is about finding someone who fits within the company culture. Make it clear from the get-go that the job you're hiring for entails a lot of group work. And then assess whether the candidate you are hiring has the right personality to fit your current team, including their work style, their level of flexibility, their ability to resolve conflict, and their emotional intelligence. Also, to ensure that the team is balanced, pay attention to the various team roles that are represented or missing on the current team. And don't discount the importance of team-building activities. Just like all relationships, strengthening the team's bond is important."
Want to determine your teamwork pet peeves? Check out http://testyourself.psychtests.com/testid/2139
Professional users of this test can download a sample report for the TIOT – R2 (Team vs. Individual Orientation Test – 2nd Revision) or request a free demo for any assessment from ARCH Profile's extensive battery: http://hrtests.archprofile.com/testdrive_gen_1
To learn more about psychological testing, download this free eBook: http://hrtests.archprofile.com/personality-tests-in-hr
About PsychTests AIM Inc.
PsychTests AIM Inc. originally appeared on the internet scene in 1996. Since its inception, it has become a pre-eminent provider of psychological assessment products and services to human resource personnel, therapists, academics, researchers and a host of other professionals around the world. PsychTests AIM Inc. staff is comprised of a dedicated team of psychologists, test developers, researchers, statisticians, writers, and artificial intelligence experts (see ARCHProfile.com). The company's research division, Plumeus Inc., is supported in part by Research and Development Tax Credit awarded by Industry Canada.