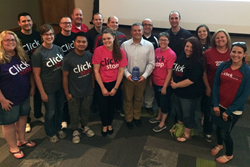 Urbana, IA (PRWEB) June 23, 2017
For a record eighth time, Clickstop has been honored by the Corridor Business Journal(CBJ) as one of the 25 Fastest Growing Companies in the Cedar Rapids/Iowa City area.
Clickstop, the most featured business in the award program's 10-year history, came in at #23 on this year's list, posting 43.86 percent growth from 2014 to 2016. Rankings are determined by revenue growth over the three previous years.
"Running or working for a fast-growing company is certainly exciting, but can be challenging in many other ways," CBJ Publisher John Lohman wrote in the publication's Fastest Growing Companies 10th Anniversary edition. "That's why those companies that have been on the list multiple times should get some additional attention. Clickstop is the leader in that category."
Each company's ranking was unveiled during an event June 7 at The Hotel at Kirkwood Center in Cedar Rapids. Nearly 20 Clickstop employees attended.
Clickstop debuted on the list at #4 in 2009, followed by a #5 ranking in 2010 and #4 in 2011. In 2012 the company landed at #3 — its highest spot to date — with a growth of nearly 200 percent. Other appearances include #15 in 2013, #23 in 2015 and #14 last year.
Clickstop owns and operates a diverse suite of brands from its headquarters in Urbana. Its US Cargo Control division accounts for nearly 85 percent of the company's overall sales, offering trucking and transportation products, lifting slings, rigging equipment and moving supplies, as well as specializing in manufacturing tie-down straps, cargo nets, chain slings and flatbed tarps.
Clickstop CEO Tim Guenther has no plans to slow down, and attributes significant growth and success to an engaged team. The company is gearing up for rapid growth in 2018 and beyond, eyeing acquisition opportunities and considering multiple strategies to cut delivery time.
"Getting customers what they want when they need it is not only our motto, but an expectation of many customers," Guenther said. "Aligning our operations with customer expectations and providing two- to three-day shipping nationwide is what the market demands."
Clickstop's continued growth has also earned national and statewide recognition. In 2016 the company made its seventh consecutive appearance on the Inc. 5000 list of fastest-growing private companies in America. In addition, the company ranked #15 on the magazine's list of fastest-growing companies in Iowa.
Guenther founded Clickstop in 2005, selling load securement supplies on the website uscargocontrol.com. The company has since grown from a handful of employees to 150.
A multimillion-dollar building expansion, nearly complete at Clickstop's Blue Creek Drive location, has added more than 53,000 square feet of manufacturing and office space, a commercial kitchen, entertainment areas and a health and fitness center.
###
About Clickstop, Inc.
Clickstop is a multi-brand merchant based in Urbana, Iowa. Its focus on great workplace culture has landed the company multiple work environment-focused awards including two first-place achievements as the Coolest Place to Work, along with being named one of Iowa's Top Workplaces by The Des Moines Register for four consecutive years. Clickstop serves diverse markets that include the moving and cargo control industry, energy-efficient insulation products, fasteners and home organizing solutions. For more information, visit Clickstop.com.
About US Cargo Control
US Cargo Control is a leader in the cargo control industry, specializing in cargo control, lifting slings, rigging equipment and moving supplies. With growing product offerings and a focus on innovation, the company is committed to offering quality products, timely delivery, and an excellent customer experience. Expanding manufacturing capabilities and custom options further ensure customers get what they want, when they need it.