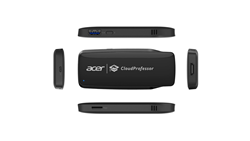 The A3 Education IoT class using Acer CloudProfessor is a great way for students to easily get started with coding, the Cloud and designing products," said Maverick Shih, President of BYOC Smart Products, Acer Inc.
San Jose, Calif. (PRWEB) June 22, 2017
Acer America announced that its Acer CloudProfessor educational development kit is being used by A3 Education for its 2017 Internet of Things (IoT) online summer class that is being offered for free in many counties in California. Registration has opened for this new class, which develops students' programming skills to design and build cloud-connected IoT devices using Acer CloudProfessor.
The class will teach students the basics of the Cloud, coding and more using Acer's CloudProfessor IoT starter kit, which includes the CloudProfessor module, an Arduino development board, a variety of sensors and needed cables. Students are able to program various aspects of their connected devices at a range of skill levels, increasing up to more advanced topics such as robotics.
Students between the ages of 5-24(1) who have not yet completed high school can register now for the A3 Education IoT Summer Class here. The convenient online class and curriculum, which is available to students between July 1-August 31, will teach students about the Cloud, Coding and how to design Internet of Things with the Acer CloudProfessor kit and the Acer CloudProfessor app using their Android or iOS devices.(2) Class materials, which include video and written tutorials, manuals, an interactive app and the Acer CloudProfessor IoT kit will be provided for free to all registered students. The Acer CloudProfessor IoT kit is valued at $349 MSRP for the hardware, not including A3's educational content.
"The A3 Education IoT class using Acer CloudProfessor is a great way for students to easily get started with coding, the Cloud and designing products, since it covers these concepts in ways that are easy for students to grasp, and can be scaled to students' ability levels," said Maverick Shih, President of BYOC Smart Products, Acer Inc. "Summer classes teaching STEM concepts are most often expensive and time consuming. The A3 IoT class using Acer's CloudProfessor makes STEM engaging and exciting, and can be done at a student's own pace and convenience – for free."
Mary Clare Coyle, Director of Marketing and Community Outreach for A3 Education, stated, "We are thrilled to include Acer CloudProfessor in our new IoT Summer Class to students across California. This class is incredibly interesting and teaches important topics that spur critical thinking as well as creativity. Plus, the combination of Acer CloudProfessor and A3's proven online format make is ideal for students of all levels who want to increase their skills."
This A3 Education IoT Summer Class is the first using Acer CloudProfessor in North America. More than 1,000 students have already taken classes using Acer CloudProfessor via 50 different schools in Asia and South America.
Students in the following counties in California are eligible to register: Butte, Colusa, Contra Costa, Fresno, Imperial, Inyo, Kern, Kings, Lake, Los Angeles, Madera, Marin, Mendocino, Merced, Mono, Monterey, Napa, Orange, Placer, Riverside, Sacramento, Santa Barbara, San Bernardino, San Benito, Santa Clara, Santa Cruz, San Diego, San Luis Obispo, Solano, Sonoma, Sutter, Tulare, Ventura, Yolo and Yuba.
About Acer
Founded in 1976, today Acer is one of the world's top ICT companies and has a presence in over 160 countries. As Acer looks into the future, it is focused on enabling a world where hardware, software and services will infuse with one another to open up new possibilities for consumers and businesses alike. From service-oriented technologies to the Internet of Things to gaming and virtual reality, Acer's 7,000+ employees are dedicated to the research, design, marketing, sale, and support of products and solutions that break barriers between people and technology. Please visit http://www.acer.com for more information.
1.) Students attending a summer class at a public school in 2017 are not eligible for this class. Minors must be authorized by parents to sign up for the class.
2.) Each student must have an Android or iOS device (Smartphone or tablet with Wi-Fi connection).
© 2017 Acer America All rights reserved. Acer and the Acer logo are registered trademarks of Acer Inc. Other trademarks, registered trademarks, and/or service marks, indicated or otherwise, are the property of their respective owners. All offers subject to change without notice or obligation and may not be available through all sales channels. Prices listed are manufacturer suggested retail prices and may vary by location. Applicable sales tax extra.