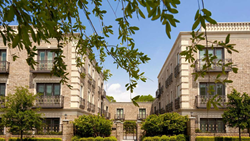 DALLAS, TX (PRWEB) July 09, 2017
Park Hollow is famous for its location in Preston Hollow, between NorthPark Center and Preston Center in Dallas, Texas, and for its architectural grandeur. Apartment homes begin at 1962 square feet, lease starting at $3,400 per month and range upward to 4,000 square feet. There are 31 unique floor plans in the 96-unit community that can be viewed at http://www.parkhollow.com.
The name change subtly distinguishes Park Hollow, constructed 2008, from nearby Drexel Park Hollow Condominiums. Park Hollow is very private with limited access. It features amenities such as jetted bathtubs, separate living areas, fireplaces, direct entry elevators, offices, yards, skylights, opera balconies, and it resides near the finest shopping, dining, and entertainment hot spots to be found in North Dallas.
The community is located six miles from Love Field at 6535 Bandera Avenue, Dallas Texas 75225. It is within a few miles of Southern Methodist University, Texas Health Presbyterian Hospital, Baylor University Medical Center, and NorthPark Center.
ZRS Management provides quality management services for this elite demographic, expert maintenance and resident care, including connecting services for new residents, resident reviews, corporate advantage program, and a resident portal where they can easily pay rent and communicate with staff members.
ABOUT ZRS MANAGEMENT, LLC
ZRS Management, LLC was formed in 1991 as a preferred provider for high quality multifamily communities. ZRS now manages over 30 thousand apartments for multiple clients. It has headquarters in Orlando, Florida and regional offices in Fort Lauderdale, Jacksonville, Tampa, Dallas, Chicago, Houston and Atlanta. Portfolios are currently located across Florida, Texas, Georgia, Illinois, Virginia, Washington DC, and Maryland. ZRS was named in the National Multi-Housing Council's TOP 50 management companies in the nation.