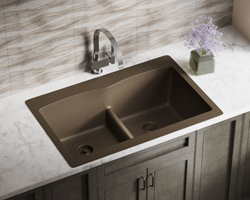 It is divided in half, but unlike most sinks in this form, the T812 has the rare low divide between its bowls
Toledo, OH (PRWEB) June 25, 2017
Recently, MR Direct debuted several new TruGranite sinks – topmount versions of the existing undermounts. Today, a completely new TruGranite sink is being introduced. The T812 is a topmount style with a number of intriguing features.
This sink has a dual basin design. It is divided in half, but unlike most sinks in this form, the T812 has the rare low divide between its bowls. This separating barrier rises only to approximately half the height of the other sides. For those who frequently use large cookware like cookie sheets, casserole pans, and long handled pots, the low separation of the bowls allows room for these utensils to be stacked, soaked, and washed with greater ease than in a fully divided sink.
The back wall of each basin is slightly bowed, providing just a bit of extra sink space, along with a touch of contemporary flair. With offset drains, food scraps are directed out of the way inside the sink; while the position of the plumbing permits more storage space below the sink.
A significant 1½″ edge supports the sink on three sides and an even wider rim defines the back. Pre-scored holes are marked on the underside of the rear ledge, making it easy to properly install the faucet and accessories.
Until the recent trend toward undermount sinks, the conventional means of installing a kitchen sink had been from above the counter. Today, this drop-in or topmount method is seeing a bit of a resurgence. It is most popular with laminate countertops, which would otherwise expose their core along the cutout edge. Some use a topmount sink with granite counters to protect the cut stone edges from the possibility of chipping. Still others simply like the appearance and functionality of a topmount.
The T812 is created from the same blend of quartzite and acrylic, in an 80/20 ratio, used in all the MR Direct TruGranites. This combination results in a durable material, extremely well-suited to being formed into a kitchen sink. Able to withstand water temperatures up to 550°, TruGranite is also resistant to staining and scratching, and is naturally quiet. Infused with silver ions, 99% of all bacteria, mold, and mildew are killed on contact.