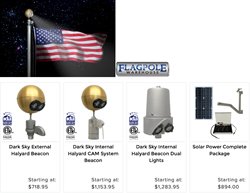 "We are proud to be an integral part of a new, global sensitivity to light pollution, and more importantly to be doing something about it," - Mike Lawrence, Vice President of The Flag Company, Inc.
Atlanta, GA (PRWEB) June 26, 2017
As a direct result of The Flag Company Inc., and its http://www.flagpolewarehouse.com subsidiary being named official, proactive participants in the International Dark Sky Association (IDA) April, 2016's Dark Sky Week festivities, a world-wide spotlight has been shined on the critical issues of light pollution and its effects on the environment.
"We are proud to be an integral part of a new, global sensitivity to light pollution, and more importantly to be doing something about it," said Mike Lawrence, Vice President of The Flag Company, Inc. "When it comes to lighting the future, our philosophy as a company from the beginning has been one of dedication to environmental issues. We've anticipated the future with our Flagpole Lighting Beacons. They are the result of many years of research and development, constantly improving the product with new components as technology presented itself."
The Dark Sky-Friendly line of Flagpole Beacons available at https://www.flagpolewarehouse.com/products/Dark_Sky_Products consists of three products at a variety of price-points: The Dark Sky External Halyard Beacon; The Dark Sky Internal Halyard CAM System Beacon as well as the Dark Sky Internal Halyard Beacon with Dual Lights. According to Mr. Lawrence, "The proprietary Flagpole Beacon lighting technique is absolutely surgical. Not only are these flagpole beacons the most environmentally correct way to light flags during night hours, they're the only way to illuminate them without ambient light bleeding onto adjoining property or into the night sky."
A growing body of research suggests that the loss of the natural nighttime environment is causing serious harm to human health and the environment. As an official recipient of the Dark Sky Association Seal of Approval, The Flag Company, Inc. and http://www.flagpolewarehouse.com take their place among the first-responding ranks of corporate America who have identified the possible repercussions of over-lighting our planet, and are taking appropriate measures to prevent this disastrous eventuality.
Universally recognized as the first real innovation in the flagpole industry in over 50 years, the Flagpole Beacon is illuminating the way to a healthier planet. Continues Mr. Lawrence, "We're thankful for all the interest in our Flagpole Beacons. It reaffirms our belief that when given the opportunity, people will do whatever they can to preserve and conserve the environment. Our Flagpole Beacon protects the night sky by reducing light pollution and our solar versions conserve energy. And our eco-friendly reputation has resulted in being awarded contracts for a variety of challenging, prestigious projects we're extremely honored to be part of. For example, one of our unique amber bulbs was employed along the Florida and Georgia coasts to circumvent spawning, protected sea turtles from becoming disoriented by bright lights glaring out over our beaches when they come ashore to lay their eggs." In other examples, the Rotonde at Aruba International Airport has a magnificent display of international flags flying on illuminated flagpoles, and the U.S. Park Service lights their flagpoles along the Canadian border.
About The Flag Company, Inc. and Flagpole Warehouse.com
The Flagpole Warehouse.com division is the latest example of The Flag Company, Inc.'s commitment to being at the proactive forefront of environmentally-sensitive issues. Since its founding over 29 years ago, The Flag Company, Inc. has strived to implement the most eco-friendly manufacturing processes and products. When it comes to Flagpole lighting, whether it's commercial or residential, Dark Sky or solar powered, the Flagpole Warehouse lights the way. The Flagpole Warehouse offers a large number of lighting solutions, with every conceivable part, package, transformer and more to complete a project's flag-lighting needs.
Catering to eighteen distinct categories of customers, The Flag Company, Inc. provides an extensive inventory of over 8,500 items. The Flag Company, Inc. now also partners with a dedicated machine and manufacturing company, expanding its capability to provide custom brackets, finials, hardware and other similar products for special orders. Additionally, The Flag Company, Inc. is collaborating on pioneering robotic equipment for use in the flagpole industry.
Besides http://www.flagpolewarehouse.com, The Flag Company, Inc. has developed several websites targeting its varied and diverse customer base, all of which are consistent with the company's environmental-consciousness including http://www.sunenergywarehouse.com - a single source dedicated to solar power and energy-efficient products such as solar panels and systems, LEDs, fluorescents including compacts, halogens, incandescent, HIDs and miniatures.
The Flagpole Warehouse.com division boasts several flagship environmentally-enhancing portfolio jobs including:

1996 Olympics, Atlanta, GA - Flagpoles and Flags
Dow Chemical World Headquarters, Midland, MI - Flagpoles & Flagpole Beacons
National Infantry Museum, Fort Benning, GA - Flagpoles
FORSCOM Headquarters, Fort Bragg, NC - Flagpoles
Hartsfield-Jackson Atlanta International Airport - Flagpoles
IKEA, CA - Flagpole Beacons
Manpower Group World Headquarters, Milwaukee, WI. - Flagpoles & Flagpole Beacons
Strategic Operations, San Diego, CA - Custom Flagpoles
Turner Field, Atlanta, GA – Flagpoles