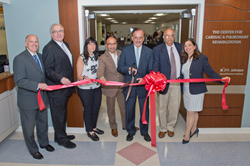 We know our patients see amazing benefits, from a reduction in mortality to a reduction in symptoms such as angina. Many quit smoking, improve their exercise tolerance and reduce their blood lipid levels. — Sara Cuccurullo, MD
EDISON, New Jersey (PRWEB) June 26, 2017
The new JFK Johnson Center for Cardiac and Pulmonary Rehabilitation has opened to speed the recovery and extend the lives of people with heart and lung disease. The newly expanded and renovated center provides highly specialized, closely monitored exercise programs as well as nutritional counseling, stress management and behavioral modification.
For post-cardiac stent patients, for instance, studies have shown the chance of dying decreases 45 percent among those who complete a cardiac rehabilitation program.
"We know our patients see amazing benefits, from a reduction in mortality to a reduction in symptoms such as angina. Many quit smoking, improve their exercise tolerance and reduce their blood lipid levels," said Sara Cuccurullo, MD, Medical Director of JFK Johnson Rehabilitation Institute and Chair of the Department of Physical Medicine and Rehabilitation at Rutgers Robert Wood Johnson Medical School.
"We also see an improvement in our patients' overall well being and stress levels," she told the physicians, patients, nurses and therapists gathered for the opening of the new center, which is located at JFK Johnson Rehabilitation Institute, at 65 James Street in Edison.
The newly renovated center includes state-of-the-art exercise equipment, such as recumbent bicycles, and upgrades that allow patients to easily remain on oxygen while they exercise.
"Every day one of my patients comes to me and tells me how great the rehabilitation program is," said Dr. Aaron Feingold, Chief of Cardiology at JFK Health. "Our patients are recovering faster and living longer and feeling better. It really does save lives and is part of our cardiac continuum of care here at JFK Health."
Staff members include exercise physiologists, registered dietitians, rehabilitation psychologists, registered nurses and other experts who monitor and guide each patient, including some who may have thought they were too ill to exercise at all. Some patients come to the center in wheelchairs and need to use oxygen. Many improve substantially and no longer need their wheelchairs as they gain strength and balance and confidence during the 36-session program, which is covered by Medicare and most insurance plans.
Raymond Fredericks, President & CEO, JFK Health, mentioned his father went through the program and expressed to him how deeply the staff members care for their patients.
"This is a beautiful new space," he told staff members at the gathering. "Every time I walk in here and talk to a patient they tell me how grateful they are. You are truly extending the lives and improving the quality of life for your patients."
Some patients who have a cardiac procedure, such as stenting or angioplasty, may think the intervention alone will end their problems. But most people also need to improve their overall health to reduce the risk of a recurrence, explained Christa Reineke, Director of Rehabilitation Services at JFK Johnson.
"You may think if you had a heart blockage a stent will fix everything. But all the things that caused the blockage in the first place may still be there if you don't make changes," she explained. "What we do here is very specialized to help patients in their recovery. We're not just talking about putting someone on a treadmill."
The center helps people with a range of cardiac issues, such as heart attack, coronary artery disease, a bypass graft, heart valve replacement, heart transplant, stable angina and congestive heart failure. The pulmonary program helps patients with problems such as COPD, bronchiectasis, sarcoidosis, pulmonary hypertension, pulmonary fibrosis, interstitial lung disease, lung cancer, lung volume reduction and pre- and post- lung transplant.
Saleem Husain, MD, a cardiologist, said what happens after a patient leaves the hospital is key. "The rehabilitation center helps people take care of themselves, and teaches them about their disease and how they can make themselves feel better. It's important that a few weeks after a procedure our patients are being closely watched," Dr. Husain said.
One patient, Samantha Taylor, of Plainfield, gave an emotional description of how JFK Health and the rehabilitation center "saved my life." The three-time cancer survivor suffered double pneumonia and fluid around her heart and was so sick she wrote a good-bye letter to her nine-year-old daughter while in the ambulance on the way to the hospital.
"I thought that was it for me," she said. Today, vibrant and energetic, Taylor said the rehabilitation that followed her three-week hospital stay has renewed her physically and emotionally.
"The days were very, very hard. But being here with all of you made me want to keep going," she said at the opening. "The new space is beautiful and all of you made it so easy for me to get better. It was so effortless!
As her 11-year-old daughter, Sophia, with tears in her eyes, sat in the front row, Taylor continued: "You took such good care of me. I love you all from the bottom of my heart and thank you for giving me more time with my family."
The Leader in Providing Quality Rehabilitation Care
Since 1974, JFK Johnson Rehabilitation Institute has developed programs in such specialties as stroke rehabilitation, orthopedic programs, fitness, cardiac rehabilitation, women's health, pediatrics and brain injury rehabilitation. In addition to providing inpatient adult rehabilitation services, the Institute treats thousands of children and adults each year on an outpatient and short-term basis. Outpatient rehabilitation programs are provided in Edison and at our facilities in Metuchen and Monroe. We also provide consulting, treatment, education and advocacy for local companies, professionals and schools.
Our Continuum of Care assures patients of an integrated, personalized program that facilitates the recovery process and encourages family participation.
The JFK Johnson Rehabilitation Institute is accredited by the Joint Commission. The facility is also accredited by the Committee on Accreditation of Rehabilitation Facilities. JFK Johnson Rehabilitation Institute is also licensed by the state of New Jersey as a Comprehensive Rehabilitation Hospital.
For additional information about our inpatient services, please call (732) 321-7733.