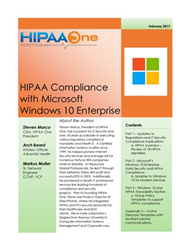 "The internal teams at Microsoft listened to the feedback and made the right changes for the healthcare community in their latest Creators Update," said Steven Marco, President
Lindon, Utah (PRWEB) June 28, 2017
HIPAA One co-authors whitepaper with Microsoft and provides guidance on how Windows 10 can be used as a HIPAA-compliant operating system for healthcare organizations.
In recent years Microsoft has made an investment in security and privacy technologies along with prioritizing the importance of mitigating emerging cyber threats. As a result, Windows 10 Enterprise includes deep architectural advancements for the protection of Electronic Protected Health Information (ePHI), an essential safeguard for achieving HIPAA compliance.
Following the release of the whitepaper, Microsoft announced a new update, Creators Update 1703 for Windows 10 in April 2017. Designed to let users better protect their devices and data in their organizations, the update highlights Microsoft's pledge to be forthcoming on the user data they collect and furthered their commitment to decreasing the exposure of that data. Along with changes to Telemetry settings, the update also provided granular details on amended basic level Windows diagnostic events and fields.
"When we originally drafted the Windows 10 Enterprise whitepaper, Telemetry had to be turned off to avoid potential disclosures of the 18 identifiers of protected health information at the operating-system level,"said Steven Marco, President and Founder, HIPAA One. "The internal teams at Microsoft listened to the feedback and made the right changes for the healthcare community in their latest Creators Update."
The whitepaper, HIPAA Compliance with Microsoft Windows 10 Enterprise has been amended with a newly drafted Appendix section linking to the Creators Update 1703 for Windows 10.
About HIPAA One®:
At HIPAA One we develop solutions that are simple, automated and affordable. Owned by Modern Compliance Solutions, Inc.®, our services allow our healthcare clients to focus on their important objectives: improving patient care, increasing revenue and reducing operating costs. Designed for both auditors seeking advanced functionality and office managers alike, we understand the challenges the healthcare community faces to meet HIPAA compliance regulations.
Contact Us today to learn how the HIPAA One Security Risk Analysis and Privacy & Breach Notification Risk Analysis Software platforms will enable your organization to appropriately safeguard protected health information.