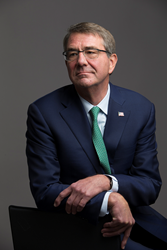 "Carter is widely respected across the political spectrum—a remarkable achievement in a time of intense polarization." -Alan Luxenberg, President, FPRI
Philadelphia, PA (PRWEB) June 27, 2017
The Foreign Policy Research Institute (FPRI) will present its 13th Annual Benjamin Franklin Award for Public Service to Ash Carter, U.S. Secretary of Defense (2015-2017), at its 2017 Annual Dinner on Tuesday, November 14, at the Union League of Philadelphia.
Seating is limited, and both individual tickets and tables are available for purchase. For pricing information or sponsorship opportunities, please contact Eli Gilman at egilman(at)fpri.org or at 215-732-3774 ext. 103.
An extraordinary public servant working under presidents of both parties, Carter has remained dedicated to keeping his career above politics. He has worked in a variety of fields including academia, the private sector, and the government—all contributing to his savvy and creative leadership in the Department of Defense. Using his unique perspective, Carter was able to spearhead transformative change within the department during a time of deep political division among a gridlocked Congress facing a rapidly changing world.
"Carter is widely respected across the political spectrum—a remarkable achievement in a time of intense polarization," said FPRI President Alan Luxenberg. "We are delighted to bestow upon Ash Carter—who is by the way a Philadelphia native—the Benjamin Franklin Award for Public Service."
In a keynote address entitled "Challenges to American Security," Carter will discuss how the U.S. can approach the changing global landscape. He will explore how pushing the Pentagon to think "outside of its five-sided box" can improve strategic thinking in foreign policy. Carter will speak to how he has leveraged his extraordinary experience in national security, technology and innovation to defend the U.S. and to create a better world not only in air and sea and land, but also in space and cyberspace.
ABOUT THE FOREIGN POLICY RESEARCH INSTITUTE
FPRI is a non-profit, non-partisan think tank located in Center City Philadelphia. Its mission is to bring the insights of scholarship to bear on the foreign policy and national security challenges facing the United States. It seeks to educate the public, teach teachers, train students, and offer ideas to advance U.S. national interests based on a nonpartisan, geopolitical perspective that illuminates contemporary international affairs through the lens of history, geography, and culture.
For more information about the FPRI, please visit http://www.fpri.org.