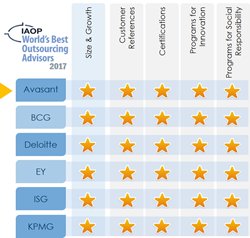 Los Angeles, CA (PRWEB) July 04, 2017
Amongst the 20 named as the "World's Best," Avasant received a five-star ranking across all scoring categories. Only six global companies received this top ranking. The scoring categories include (1) size & growth, (2) customer references, (3) awards & certifications, (4) programs for innovation, and (5) programs for corporate social responsibility. The judges' panel featured industry-recognized leaders and the CEO of IAOP. The panel evaluated candidates based on measurable standards that determined their commitment to excellence.
"This year marks Avasant's 10th anniversary, and a decade committed to excellence for its clients, employees, and strategic innovations," said Avasant Global CEO Kevin S. Parikh. Parikh continued, "We're thrilled to have our work recognized with this terrific award."
"Buyers understand there are hundreds of qualified service providers and advisors out there, but what they really need to understand now is what makes each one exceptional," said IAOP CEO, Debi Hamill. "The Global Outsourcing 100 and World's Best Advisors lists have done just that. We're proud to recognize Avasant for being among the highest rated companies."
The World's Best Outsourcing Advisors list with distinguishing stars is featured in the June special Fortune 500 issue of FORTUNE® magazine. The full list can also be found here: https://www.iaop.org/Content/19/165/4702.
About Avasant
Avasant is a leading management consulting firm focused on translating the power of technology into realizable business strategies for the world's largest corporations. Specializing in digital and IT transformation, sourcing advisory, global strategy, and governance services, Avasant prides itself on delivering high-value engagements through industry focused innovation and flexible client based solutions.
Our seasoned professionals have an average of 20 years of industry-honed expertise, having conducted 1000+ engagements in over 40 countries. Avasant's next generation consulting and advisory methods have made it the top-ranked firm in its class, with recognition from numerous organizations, including: Vault, NOA, IAOP, and Wall Street Journal.
Avasant's engagement in the global market has inspired a strong commitment to community and purpose. Avasant Foundation supports technology and skill development programs to create employment opportunities for youth across Africa, Asia, the Caribbean and Latin America.
For more information, visit http://www.avasant.com.
Follow news, photos and video on Twitter at http://www.twitter.com/avasant, Facebook at https://www.facebook.com/avasantllc, and LinkedIn at https://www.linkedin.com/company/avasant.
About IAOP
IAOP is the go-to association leading the way to improve outsourcing outcomes by bringing together customers, providers and advisors in a collaborative, knowledge-based environment that promotes professional development, recognition, certification and excellence. With over 120,000 members and affiliates worldwide, IAOP is not only on top of the latest trends but in front of them. Through its expansive global chapter network, premier training and certification programs, knowledge center, member community and more, IAOP helps members learn, grow and succeed. For more information and how you can become involved, visit http://www.IAOP.org.