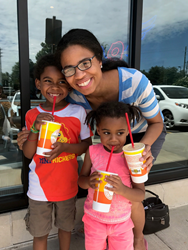 ATLANTA (PRWEB) June 27, 2017
Tropical Smoothie Cafe, the leading fast casual cafe concept known for its better-for-you food and smoothies with a tropical twist, officially kicked off its 2017 fundraising campaign across 600 locations for community partner Camp Sunshine in Casco, Maine during the company's annual National Flip Flop Day on June 16.
 
National Flip Flop Day is unique to Tropical Smoothie Cafe and was created over ten years ago to celebrate summer, show appreciation to loyal customers and kick off fundraising efforts for Camp Sunshine. Over the past decade, Tropical Smoothie Cafe has raised over $4.5 million to support Camp Sunshine's mission to provide an authentic camp experience for children with life threatening illnesses and their entire families.
 
"This year's National Flip Flop Day was our most successful celebration to date. Over 500,000 guests visited our cafes, enjoyed a free Sunshine Smoothie and donated to Camp Sunshine. In just one day we raised nearly $200,000, which speaks volumes about our customers' loyalty and commitment as they went above and beyond to support a cause that's near and dear to our hearts," said Mike Rotondo, CEO of Tropical Smoothie Cafe. "This year marked our 10th anniversary of raising money to support this amazing organization. I would like to personally thank our valued customers who reached into their pockets and donated enough funds to send close to 100 families to Camp Sunshine, as well as our amazing franchisees and crew for all of their efforts on National Flip Flop Day. Given this record breaking start, we are well on our way to our $1 million fundraising goal for this year."
Camp Sunshine is the only program in the nation offered year-round with the distinction of having been designed to serve the entire family in a retreat model. The program is free of charge to families and includes on-site medical and psychosocial support. Bereavement sessions are also offered for families who have experienced the death of a child from a supported illness.
 
Donations made at any Tropical Smoothie Cafe location will help benefit sending local families from communities across the nation to attend Camp Sunshine. Fundraising will continue through August 20.
 
For more information on Tropical Smoothie Cafe, visit http://www.tropicalsmoothiecafe.com.
For more information on Camp Sunshine or if you know a family that would like to attend, visit http://www.campsunshine.org.
 
-###-
 
About Tropical Smoothie Cafe
Founded in 1997, Tropical Smoothie Cafe is a fast-casual restaurant concept inspiring healthy lifestyles across the country. With snack and meal options for any time of day, Tropical Smoothie Cafe serves smoothies, salads, wraps, sandwiches and flatbreads. The rapidly growing franchise has received numerous accolades including being ranked on Entrepreneur's 2017 Franchise 500, 2016 Fast Casual Top 100 Movers and Shakers, Franchise Times' Top 200+ and Nation's Restaurant News' 2016 Top 200. Tropical Smoothie Cafe is seeking qualified franchisees to expand throughout the United States in markets including Indianapolis, Nashville, Houston, Dallas, Cincinnati and Minneapolis, among others. For more information, visit TropicalSmoothieFranchise.com.
 
About Camp Sunshine in Casco, Maine
For more than 30 years, Camp Sunshine has provided a haven for the families of children with cancer, kidney disease, lupus, brain tumors, sickle cell disease, Fanconi anemia, Diamond Blackfan anemia, Schwachman Diamond syndrome, and Dyskeratosis Congenita as well as children who have undergone solid organ transplants from 50 states and 27 countries.
 
Camp Sunshine provides year-round retreats combining respite, recreation and support, while enabling hope and promoting joy for children with life-threatening illnesses and their families through the various stages of a child's illness. For more information, visit CampSunshine.org.