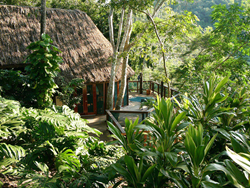 It still amazes me that people can go from a bustling city to one of the most pristine wilderness areas on earth in just a few hours.
San Ignacio, Belize (PRWEB) June 29, 2017
New direct flights from Ft Lauderdale to Belize are one more example of the little Caribbean country's dramatic rise as a tourism destination, and The Lodge at Chaa Creek has responded by welcoming visitors with a range of summer vacation activities that focus on the little country's "timeless appeal", the Belizean jungle lodge's general manager said.
Bryony Fleming Bradley said Southwest Airlines' new daily service from Ft Lauderdale to Belize's Philip Goldson International Airport, which began June 2017 with multiple connections to Baltimore, New York, Atlanta, Orlando, Tampa, Washington DC and other cities, allows travellers to fly almost directly to Chaa Creek via a Tropic Air connection to the adjacent Maya Flats airstrip, or to enjoy a comfortable air-conditioned ride with an optional visit to the Belize Zoo.
Both options have their advantages, she explained.
"Flying directly to Belize from Florida, and then taking the short Tropic Air hop to the Maya Flats airstrip, which is literally at our front door, is the quickest, most efficient way to get poolside and start enjoying a Belize vacation.
"With the overland option, our naturalist guides collect guests at the airport and are happy to point out things of interest and answer questions during the drive in. Along with optional stops at the Belize Zoo, where visitors can get up close and personal with many of the animals that inhabit the 400-acre private nature reserve surrounding Chaa Creek, our guests get a nice introduction to the country.
"Whichever route travellers choose, getting from Florida to Chaa Creek has become incredibly quick and easy," Ms Bradley said, adding, "It still amazes me that people can go from the bustling city of Ft Lauderdale to relaxing in one of the most pristine wilderness areas on earth in just a few hours."
Ms Bradley said that even with enhanced international and local air service and improvements in Belize travel infrastructure – such as last year's renovation of the domestic air terminal, her family remains committed to providing the blend of comfort, service and an authentic jungle lodge experience that Chaa Creek has become known for.
"As we become more accessible to more people, we want to make sure we preserve those things that attracted travellers here in the first place. My parents became well known for their hospitality back when Chaa Creek was still a working farm, and the surrounding jungle is as beautiful and timeless as ever. The ancient Maya temples haven't lost their grandeur over thousands of years, and the Macal River hasn't changed since its days as an important trade route long before the first Europeans arrived.
"Our summer vacation activities are designed to introduce families, couples, groups and individuals to, this timeless aspect of Belize, and balance fine dining and quality built comforts with the natural world," she said.
Once a remote haven for adventurers, archaeologists, serious birdwatchers and Maya temple explorers, The Lodge at Chaa Creek has become one of the Caribbean and Central American region's most recognised and highly visited eco-resorts. Ms Bradley said her family-owned and operated eco-resort remains committed to its original mission statement of seeking, "...to instil a sense of wonder and environmental responsibility in our guests through experiences that bring Belize's unique ecology, history and culture alive in an atmosphere of affordable luxury."
"With all the changes we've seen over the years, that mission statement is still central to everything we do.
With a fine dining restaurant and lounge featuring true farm-to-table dining sourced from an onsite traditional Maya organic farm, an infinity pool, internationally recognised Hilltop Spa and range of accommodation from the rustic Macal River Camp to the Ix Chel Luxury Rainforest Villas, complete with private Jacuzzis, plunge pools and personal butler service, Chaa Creek is unique in offering such a range of amenities and service within a pristine jungle setting, Ms Bradley said.
"We're proud to be able to offer the level of quality and service in such an unspoiled natural setting, and it's great to see this Southwest Airlines daily flight making it easier for travellers to discover it," Ms Bradley said. She invited travellers to contact their travel agents or Chaa Creek directly for travel details and other information.
"The vast wilderness areas and ancient Maya temples remind us that, In the face of technological change, some things remain constant, and there's a certain comfort in that," she added.
The Lodge at Chaa Creek is a multi-award winning eco resort set within a 400-acre private nature reserve along the banks of the Macal River in Belize. It was recognised by National Geographic with first place honours at the 2017 World Legacy Awards held in Berlin.