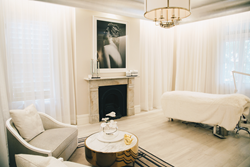 I conceptualized this place in my head for years when I realized I needed to take a holistic approach, similar to my practice philosophy
Beverly Hills, CA (PRWEB) June 28, 2017
Australia's famed All Saints Skin Clinic opened a third location in the rarefied Double Bay Sydney area. According to internationally renowned cosmetic physician and All Saints Skin Clinic founder Dr. Joseph Hkeik, the new Double Bay location is at the forefront of interior design and beauty, creating the perfect environment for rejuvenation. Centrally located in a historic two-story residential building in one of the most exclusive areas of Double Bay, it is the third All Saints practice, joining sister properties in Surry Hills and Parramatta.
The interior of the Victorian property has been thoughtfully re-designed by Dr. Hkeik and architect Blainey North to maintain a relaxed residential feel. Using mirrors and ground-up lighting, the clinic aims to provide clients with a comfortable and aesthetically pleasing environment reflective of the treatments offered. It features six treatment rooms, an opulent skin consultation room with makeup and photography stations, and a post care meditation space.
Dr. Hkeik purchased the property several years after seeing it for the first time and immediately knew it would be an ideal setting for a clinic. With a strong creative and arts background that makes him a uniquely effective aesthetic physician, Dr. Hkeik had a vision for the interior that was achieved with the collaboration with Ms. North.
"I conceptualized this place in my head for years when I realized I needed to take a holistic approach, similar to my practice philosophy," Dr. Hkeik says. "Beauty spans multiple layers, and the outside reflects proper care starting from the inside."
"We had this idea that when you take two mirrors and put them opposite each other — but at an angle — it creates this unexpected outcome," explained Blainey North, who made extensive use of both smooth and right angles to keep the design interesting.
At All Saints Skin & Wellness Clinic, the 'global holistic' approach to face management starts with a full skin-health analysis, nutritional advice about ingestible skin health products, clinical facials and skin treatments, through to medical lasers, injectables and structural facial solutions. All bespoke treatments are designed to create lasting changes and based around the 3 pillars of skin health: Nutrition, Relaxation and Skin care. The Double Bay clinic also offers a wide range of relaxing treatments inspired by both eastern rituals and the most innovative western therapies address the skin, body and spirit to help travelers achieve life changing health results.
About All Saints Skin Clinic
At All Saints Skin Clinic, the emphasis is on patient care and comfort, while formulating the best approach for cosmetic enhancement on an individualized basis. With Australian offices in Surry Hills, North Parramatta and now Double Bay-Sydney, All Saints offers the best anti-ageing and corrective aesthetic treatment options to clients from around the world with a personalized, strategic approach to the art and science of facial rejuvenation.
For more information or to make an appointment, please visit http://allsaintsskinclinic.com.au/. Follow us on social media at Facebook, Twitter and Instagram.