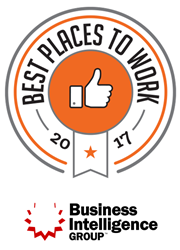 "We are so proud to reward such an outstanding group of companies in our Best Places to Work competition," Maria Jimenez, Chief Nominations Officer.
Philadelphia, PA (PRWEB) June 28, 2017
The Business Intelligence Group announced today the winners of its Best Places to Work award program. ProsperWorks of San Francisco, California has been named the overall winner, and 10 other companies were recognized for their performances.
"It was clear that ProsperWorks employees appreciate the work and culture of their organization," said Maria Jimenez, chief nominations officer of the Business Intelligence Group. "Congratulations to the leadership team for making employees' satisfaction and performance a priority to drive business growth."
"The key to success for any business is building and investing in a team of passionate individuals who love what they do," said ProsperWorks CEO and cofounder Jon Lee. "We're only able to overcome the toughest challenges and achieve great things because we have such an amazing and talented group of people who share our vision."
The Best Places to Work business awards program sought to identify organizations that are actively working to improve their own performances through efforts to challenge employees in environments that make work fun and engaging. Researchers, including Gallup, have determined that employee satisfaction and engagement are key indicators for employee productivity and customer satisfaction, which ultimately results in improved profitability and growth.
Additional winners by category are as follows:

3Play Media
Bospar
Disruptor Beam
Green Cloud Technologies
Information Builders
Investopedia
Pulsepoint
SADA Systems, Inc.
SecurityScorecard
Solver, Inc.
Nominations for the Best Places to Work award were submitted to the Business Intelligence Group in May. Employees of the nominated organizations were then asked to complete an online survey to rate their overall satisfaction and company performance.
"We are so proud to reward such an outstanding group of companies in our Best Places to Work competition," continued Jimenez. "Unlike our other business awards that are judged by volunteer industry experts and business leaders, this program put the power of determining winners into the hands of the employees themselves. We were amazed at the sheer percentage of employees who participated in making their respective companies win. That alone should serve as testament to the success of each organization."
For more information on the 2017 Best Places to Work awards, visit the Business Intelligence Group. The company hosts several global awards programs, including the Stratus Awards for Cloud Computing, the Sustainability awards, the BIG Awards for Business, the BIG Innovation Awards and the PR and Marketing Excellence Awards. New to the lineup for 2017 are the Fortress Cyber Security Awards.
About Business Intelligence Group
The Business Intelligence Group was founded with the mission of recognizing true talent and superior performance in the business world. Unlike other industry and business award programs, business executives—those with experience and knowledge—judge the programs. The organization's proprietary and unique scoring system selectively measures performance across multiple business domains and then rewards those companies whose achievements stand above those of their peers.