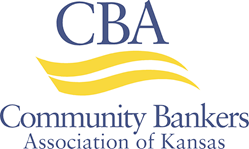 The CBA Convention brings community bankers and team members together from across the state of Kansas to share valuable insights, ideas and solutions.
Topeka, Kansas (PRWEB) June 28, 2017
The Community Bankers Association of Kansas (CBA) announces details of the 39th Annual Convention and Trade Show, set for July 19 – 21, 2017, at the Overland Park Marriott in Overland Park, Kan. Each year, CBA of Kansas creates a variety of events designed to encourage collaboration between members, including the Annual Community Bankers Convention as the highlight. Through informational seminars, opportunities to network with other community bankers and a strategically-planned trade show, the event helps attendees find solutions and support for the challenges that face community banks.
"The CBA Convention brings community bankers and team members together from across the state of Kansas to share valuable insights, ideas and solutions," says Shawn Mitchell, President/CEO, CBA of Kansas. "Not only do we bring top regional and nationally-known speakers to the convention, but there's a family-oriented atmosphere that makes it a really enjoyable event."
A shotgun start golf tournament kicks off the event at 8:30 a.m., July 19 at Deer Creek Golf Club. Registered guests can check in to the Marriott at 4 p.m., and the Chairman's Welcome Reception will be held from 8 – 11 p.m. in the CBA chairman's hospitality room.
On July 20, Meagan Johnson, a noted researcher and speaker on generational differences in the workplace, will offer a presentation titled "Boomer to Linksters, Zap the Generational Gap" at the general session beginning at 8 a.m. Kansas attorney general Derek Schmidt will talk about critical issues at 10:20 a.m., and Craig Dismuke will talk about navigating today's economic environment at 1:35 p.m. The evening of the 20th, participants will enjoy a family-friendly outing to TopGolf, where CBA has reserved the TopGolf Rooftop. This event is planned for the whole family to attend, with no golf skills necessary. TopGolf offers high-tech climate-controlled hitting bays, where all the balls are microchipped to track each shot's accuracy and distance and points are scored for each golfer's team.
On the morning of July 21, several speakers will address a number of issues affecting the banking community, including Gary Young from Young & Associates, who will discuss Uniform Bank Performance Reports, page by page. Michelle (Miki) Bowman, Kansas State Bank Commissioner will speak, as will Kevin Christensen from Shazam, Inc., who will deliver a presentation titled "Faster Payments: Critical Questions and Answers."
As a much-anticipated convention presenter, Rebeca Romero Raney, Independent Community Bankers of America (ICBA) immediate past chairman, will offer a detailed ICBA update. Romero Raney will be the new ICBA President/CEO beginning in January 2018. Curt Marshall will lead a live auction at 7 p.m., and the chairman's farewell nightcap will close ceremonies at 9 p.m.
Mitchell said the three-day event will offer a number of opportunities for participants to enjoy themselves while networking and becoming educated on an array of topics through presentations, interactive sessions and demonstrations. This year, a limited list of Demo Vendors will share their best solutions and innovations on the General Session Stage during brief, scheduled talks. The change in format means convention participants can take note of particular vendors they want to receive detailed information from as they enjoy the entire tradeshow area.
"From spouse events and family outings, to intense discussions on relevant matters facing the banking community," said Mitchell, "we've covered all the bases. We encourage participants to bring the entire family."
For full details about the event, visit https://www.cbak.com/convention-trade-show/.
About CBA:
Founded in 1978, CBA represents Kansas community banks located in rural and urban areas across Kansas. Its mission is to collectively create value for Kansas community banks through advocacy, education and services for the benefit of their customers and the communities they serve. CBA serves independently owned and operated banks of all sizes and charter types throughout the state of Kansas offering political representation, educational training and networking opportunities.
For more information, visit http://www.cbak.com.
# # #