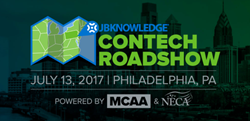 I always look forward to JBKnowledge events to confirm we are on track now and learn about what's in development for future improvements.
College Station, Texas (PRWEB) June 29, 2017
Construction professionals from across the country are attending JBKnowledge's 2017 ConTech Roadshows for a can't-miss networking opportunity. The ConTech Roadshow is a technology conference for the everyday builder to network with general contractors and subcontractors in their area and learn about the industry tech that could improve their project workflows. The first two stops will be Philadelphia, Pennsylvania on July 13th and Chicago, Illinois on August 22nd.
The 2017 Philadelphia ConTech Roadshow will give attendees the opportunity to gain insight from construction technologists and ConTechTrio podcast hosts, JBKnowledge CEO, James Benham, ConAppGuru, Rob McKinney, and BIM Expert, Josh Bone. In addition to live interviews from the ConTechTrio, attendees can sit in on educational sessions presented by local contractors and top technologists discussing topics ranging from drone regulations and safety management to mobile data security and BIM implementation.
"In order to deliver everything our customers bargained for and a little bit more, we must invest in the right technology tools and continuously improve. I always look forward to JBKnowledge events to confirm we are on track now and learn about what's in development for future improvements," stated Robert Moore, President of the West Region at Gray Construction.
All four ConTech Roadshows, powered by the Mechanical Contractors Association of America (MCAA) and the National Electrical Contractors Association (NECA), are great opportunities for networking and collaborating with local contractors, but will also feature tech vendors in the ConTech Showcase. Leading technology companies will be sponsoring the ConTech Showcase, including STACK Construction Technologies, Plans4Less, NoteVault, Milwaukee Tool, COINS Global, Triax Technologies, eSub and more.
"We're excited to sponsor the ConTech Roadshow in Philadelphia and to further our relationships within this community that's dedicated to adopting innovative technologies and building techniques to drive the construction industry forward. The passion and experience JBKnowledge brings to AEC results in energizing, thought-provoking discussions about the current and future state of the industry, and we know this Roadshow will be no exception," added Chad Hollingsworth, President and Co-founder of Triax Technologies.
Those interested in attending the 2017 ConTech Roadshows can visit jbknowledge.com/roadshow to learn more, register, and sign up to be one of the first notified of finalized dates and venues.
For SmartBid construction bid software users, the SmartBid Academy will be running alongside the ConTech Roadshows. The SmartBid Academy gives users the training and tools they need to become a SmartBid pro, facilitates discussion on bid management best practices with fellow users from around the country, and allows them to learn directly from the SmartBid team, led by Customer Service Director, Mark Fly. General contractors wanting to learn more about the SmartBid Academy can visit: smartbid.co/academy.
About JBKnowledge, Inc.
JBKnowledge develops technology solutions for the construction and insurance industries. JBKnowledge is the maker of the SmartBid commercial construction bid software, the SmartInsight construction network for searching, selecting, and verifying contractors, and SmartCompliance certificate of insurance and compliance management software. JBKnowledge also offers professional services including: IT Staff Augmentation; Strategic Consulting; Enterprise Application and Software Development; Mobile and Wearable Applications; and Research and Development Outsourcing. JBKnowledge is headquartered in Bryan/College Station, TX and serves construction clients around the world. Learn more at jbknowledge.com or listen to the ConTechTrio weekly construction technology podcast.
Like JBKnowledge on Facebook, facebook.com/JBKnowledge/
Follow JBKnowledge on Twitter, twitter.com/JBKnowledge
Connect with JBKnowledge on LinkedIn, linkedin.com/company/jbknowledge