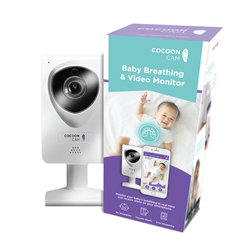 MOUNTAIN VIEW, Calif (PRWEB) June 28, 2017
Cocoon Cam, the world's first intelligent baby breathing video monitor, today announced that it has closed a $4MM Series A funding round led by Happiness Ventures with participation from previous angel investors. The funding brings Cocoon Cam's total investment to $5.01MM and will be used to help the company aggressively scale consumer marketing and sales, product development and engineering.
"We are thrilled to lead Cocoon Cam's Series A and proud to be working with such a passionate team. Their compelling vision for health monitoring of infants with groundbreaking new computer vision algorithms is a great fit for our portfolio," said Curtis MacDonald and Ajay Ramachandran of Happiness Ventures. They continued, "Happiness Ventures is all about investing in true-believer founders working on revolutionary concepts, something Cocoon Cam's team has convincingly demonstrated over the time we've known them."
Cocoon Cam's proprietary technology lets parents view their baby at any time, day or night, through a smartphone application (available for both iOS and Android) and leverages the latest in computer vision technology to deliver breathing monitoring, instant alerts and sophisticated sleep analytics never before available for home use. Cocoon Cam is the most trusted way to keep babies safe, healthy and sleeping well. Cocoon Cam has completed IRB-approved research validation studies at University of California San Diego and Lucile Packard Children's Hospital Stanford's NICU.
"The idea for Cocoon Cam came about with the birth of my daughter. Experiencing first-hand the combination of excitement and anxiety of being a new parent, it was clear that knowing your baby is safe and sleeping well are priceless," said Sivakumar Nattamai, co-founder and CEO of Cocoon Cam. "Instantly checking on your baby with visual and analytical confirmation of the child's vital signs is the first of many advances we have planned to modernize the outdated baby monitor market."
Cocoon Cam's no-wearable baby breathing monitor with HD video and streaming audio launched in February of 2017 and is currently sold online at cocooncam.com, as well as Amazon and HSN. In July, Cocoon Cam will be hitting the shelves of 300 Target stores, Target.com, and 225 Babies "R" Us stores nationwide.
"Closing this round of funding with Happiness Ventures enables us to continue to fulfill our vision of measuring human vital signs in a non-invasive way; something that brings invaluable peace of mind to parents," said Pavan Kumar, co-founder and CTO of Cocoon Cam. "Our mission is to develop and roll out product innovations and functionalities that revolutionize the way parents intelligently monitor their babies, keeping their health and wellbeing as our top concern."
Cocoon Cam has won multiple prestigious awards for their innovative use of computer vision technology in the connected nursery space. These awards include a $50,000 grant from the National Science Foundation's Innovation Corps (I-Corps) Program, based on their achievements in UC San Diego's Institute for the Global Entrepreneur I-Corps Program; The National Parenting Center Seal of Approval; Baby Maternity Magazine's 2017 Top Choice of the Year Award in the Baby Monitor Category; and Creative Child Magazine's 2017 Product of the Year.
For more information about Cocoon Cam please visit: http://www.cocooncam.com/
About Cocoon Cam
Cocoon Cam is a Silicon Valley-based technology company using computer vision for remote health monitoring. The company's first product is a category-defining baby monitor that detects a baby's vitals purely by passively collecting a video feed from the baby monitor and analyzing the data in the cloud. Parents gain instant access, via their mobile devices, to longitudinal data and real-time alerts for metrics such as breathing, temperature fluctuations, heart rate and movement. Unlike competing technologies in the baby monitoring space, Cocoon Cam's use of computer vision is completely non-invasive and requires no connected wires or wearables. For more information visit our website, Facebook, Twitter, Instagram and Pinterest.
About Happiness Ventures
Happiness Ventures invests in technology companies led by entrepreneurs who have a passion and mission to make the world a happier place. With $480mm under management, the fund group concentrates on both early stage (Seed and Series A) start-ups and growth stage companies. Happiness Ventures invests with a long-term view and supports their portfolio companies throughout their entire lifecycle.