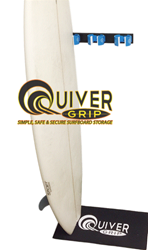 The Future Has Arrived.... QuiverGrip Will Change Forever The Way We Store Our Boards!
San Diego, California (PRWEB) June 29, 2017
QuiverGrip™ puts the focus on your boards, replacing unsightly wooden dowels with a more secure, lower cost, lower profile board storage system designed to take the hassle and worry out of displaying and storing your surfboards. The QuiverGrip™ is offered as a standalone accessory or a scalable system that consists of two simple parts the "grip" and the "track" or Q-Rail that holds up to four QuiverGrips. The QuiverGrip™ easily slides into the track and can be adjusted without tools to different positions for more or less space between boards. The end has arrived for expensive, rigid, distracting, and dangerously slippery wood dowel racks thanks to this low cost invention that is proudly made in the USA.
The QuiverGrip™ was invented in 2013 by Scott McLean of Indialantic Florida. Together with Brian Smith they formed JSB Creations (DBA) THE QUIVERGRIP™, and is being distributed globally through Waterbourn, LLC DBA Phix Doctor located in San Diego, California.
The Quivergrip™ is made of a rigid PVC material outside and softer flexible material that contacts and holds the board safe and securely. This combination of materials provides just enough compression and grip without causing any damage to the surfboard. The Quivergrip™ can be easily installed by itself or with the Q-Rail™. The Combo Pack includes The QuiverGrip™, Q-Rail™, Floor Mat, Free Sticker and hardware for installation.
Check out our Kickstarter campaign to join us in bringing QuiverGrip™ to market and be the first on your block to get the smartest, safest board storage system available!
Contact: Tony Gowen
Telephone: 321-890-7533
email: info(at)phixdoctor(dot)com
http://www.phixdoctor.com/product/quivergrip