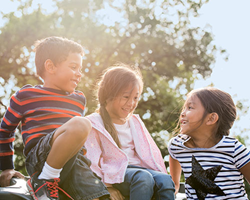 Delano, Minn. (PRWEB) July 11, 2017
Children's early experiences and the settings they inhabit play a powerful role in shaping the adults they will become. That's according to a meta-study recently commissioned by Landscape Structures Inc., a Delano, Minn.-based commercial playground equipment manufacturer, in partnership with the University of Minnesota's Institute of Child Development. The study aggregates and analyzes key findings from some of the most influential studies on children and play.
Authored by Julie Vaisarova, B.A., Ph.D. student at the University of Minnesota's Institute of Child Development, Landscape Structures commissioned the meta-study to understand how children's play behavior on school and community playgrounds contributes to whole-child health and development. The study draws from a wide body of social scientific analyses and cites a broad mix of experts—educators, child psychologists, playground designers and others—to reinforce the value and developmental necessity of children's early play experiences.
Landscape Structures is continuing its research into how play influences kids' development. Throughout the summer, the research team will conduct an observational study at various Landscape Structures playgrounds in the Twin Cities.
Landscape Structures understands that play and playgrounds offer a universal learning opportunity for children. It's on the playground that children learn leadership, persistence, competition, bravery, support and empathy. And it's these experiences that help shape kids into thinkers, dreamers and leaders. That's why the company created the Shaped by Play campaign, which includes an inspirational video that brings the why of what Landscape Structures does to life.
Learn more about the Shaped by Play campaign, and request a copy of the full research whitepaper at shapedbyplay.com.
About Landscape Structures Inc.
Since 1971, Landscape Structures Inc. has been the leading manufacturer of commercial playground equipment in the world. The employee-owned company designs community and school playgrounds that encourage kids of all ages and abilities to learn persistence, leadership, competition, bravery, support and empathy through play. Landscape Structures pushes the limits—of design, inclusion, play—to help kids realize there is no limit to what they can do today and in the future. For a better tomorrow, we play today.