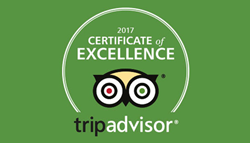 SAN DIEGO, CALIF. (PRWEB) June 28, 2017
Lajollacooks4u is pleased to announce it has been named as one of Trip Advisor's 2017 Certificate of Excellence recipients. The recognition, which honors hospitality excellence, is given only to establishments that consistently achieve outstanding traveler reviews on Trip Advisor. Only approximately 10 percent of businesses listed on the popular travel site receive the award.
To qualify for the Certificate of Excellence, businesses must maintain an overall rating of four or higher, out of a possible five, as reviewed by travelers on TripAdvisor. Businesses are also judged by the volume of reviews they've received within the last 12 months.
Lajollacooks4u's unique gourmet cooking classes and collaborative team-building events have helped propel the company towards its rapidly growing success. With over 240 "Five Star" reviews from Chef Jodi Abel's guests, this award is a testament to the high-quality service Lajollacooks4u contually provides.
About Lajollacooks4u:
Lajollacooks4u, founded in 2008, provides a unique culinary experience for corporate cooking challenges and special events in a magnificent setting overlooking the Pacific Ocean. Based in La Jolla, California, Lajollacooks4u has enjoyed record growth since its inception and has been ranked as the top in its category by the popular travel review site, Trip Advisor. Chef Jodi Abel also recently released her cookbook, Lajollacooks4u: California Cuisine, an accumulation of the favorite recipes her guests have been raving about. For more information about her cooking events, as well as her cookbook, please contact jodi(at)lajollacooks4u(dot)com