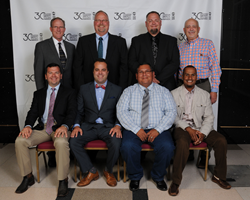 key to our excellent safety record is our employees
Houston, Texas (PRWEB) June 29, 2017
Custom Air Products & Services, Inc., one of the largest custom HVAC manufacturers in North America with over 40 years of experience specializing in the design, construction, installation, modification, and servicing of industrial, commercial and offshore HVAC equipment, is proud to announce their 8th year of recognition as Hard Crafts Medium-Bronze Award from Houston Business Roundtable & Houston Area Safety Council.
On May 19, 2017, CAPS along with 1400 plus industry representatives from owners and contract companies attended a celebration recognizing Greater Houston Area contractors for their outstanding safety performance hosted by the Houston Business Roundtable (HBR) & Houston Area Safety Council (HASC). This year marks the 30th anniversary of The Houston Safety Excellence Awards where many Houston Gulf Coast area chemical, refining and energy companies come together in a cooperative effort with the contractors that provide construction and maintenance services to improve on-site safety, reduce accidents, and most important, reduce injuries to personnel.
For the past eight years, CAPS has been nominated by Dupont LaPorte Safety Team and has been the recipient of Hard Crafts Medium-Bronze Award, which is a distinguished "World Class" award that demonstrates CAPS commitment to safety year after year. Other major components used to measure safety are Total Recordable Industry Rate (TRIR) and Experienced Modified Rate (EMR).
TRIR is the measure of the rate of recordable workplace injuries, normalized per one hundred workers (or 200,000 man-hours) per year. Recordable cases involve occupational death and any non-fatal occupational illnesses including loss of consciousness, restriction of work or motion, transfer to another job, or any medical treatment other than first aid. CAPS has had minimal recordable injuries since June of 2011, making this the fifth year of a near perfect TRIR.
EMR is a number used by insurance companies to gauge both past cost of injuries and future probabilities of risk. The EMR of 1 is considered to be the industry average. In the past three years, CAPS has had EMR scores of .70 in 2014, .66 in 2015, and .62 in 2016, with all three scores being well below the industry average.
CAPS Safety Director, Robert Covington proudly states,"The key to our excellent safety record is our employees. To achieve this ultimate goal requires not only active participation in our safety processes by all employees; it requires constant commitment and leadership from everyone. Receiving this award is a testament to how our core values serve as a compass for our team's actions day in and day out. We are very proud of this recognition."
About Custom Air Products & Services
Custom Air Products & Services, Inc. is a full-service HVAC company that specializes in the design, construction, installation, modification, and servicing of industrial and commercial HVAC equipment. CAPS employees are committed to providing exceptional custom design and quality workmanship at competitive prices.
Custom Air Products & Services currently occupies six (6) modern facilities, totaling 300,000 square feet in size. These buildings include manufacturing, fabrication and modifications, paint booths, a parts warehouse, engineering offices and a training facility. CAPS services are provided to customers throughout the United States and abroad with manufactured equipment operating on six (6) continents and in (52) countries.